Do you know what "Cup no Fuchico" is? It's a Japanese capsule toy of a little lady named Fuchico. Created by manga artist Katsuki Tanaka and produced by Japanese company KITANI CLUB CO.,LTD, Fuchico capsule toys are all the rage in current Japan. What's so great about Fuchico though? Well, to start off, she's so adorable! She's the perfect kind of tiny, and she wears a little office-style uniform, along with an angelic smile on her face. She isn't your regular figure though, because her specialty is hanging out with you on your cups!
Isn't she just the cutest little lady you've ever seen? And what perfect balancing skills too! Fuchico's main outfit is the one seen above--a sky blue x white uniform. However, Fuchico comes in various designs, all made to hang out on the outer rings of cups. There are over fifty designs avaliable of Fuchico variations! There are different colored Fuchico ladies, such as moss green, pretty red, grape purple, and more! All the colors of the rainbow. There are also summer designs, Valentines Day designs, Japanese hot spring designs, and more!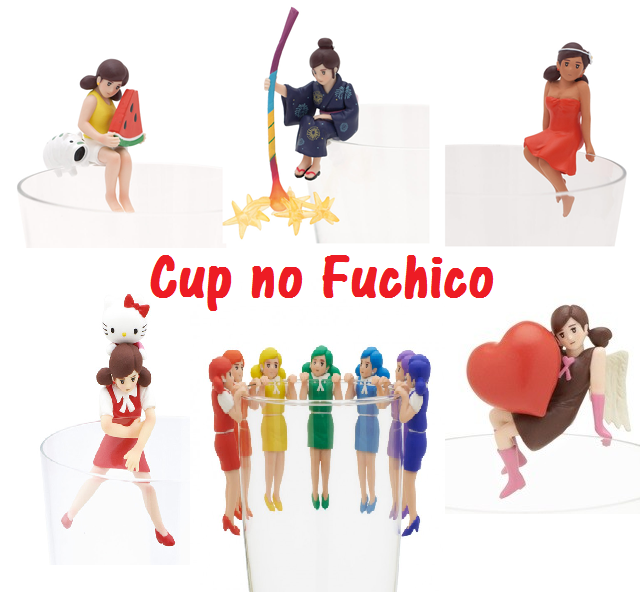 If you're not really into the whole "cutesy little lady" kind of thing, that's okay! There are other kinds of cup-hanging figures as well! There are Disney character designs, Pokemon designs, Star Wars designs, and lots more! You'd be surprised by how many friends Fuchico has. There's a cup figure for every kind of situation, whether it's at a busy workplace, or at a relaxing home.
You can get your own Fuchico here, at J-Subculture! When you want to have a rad decoration for your cups, or just a cute companion along with your cup of coffee or tea, Fuchico is the girl for you!