In a previous article, we've introduced you to decorative masking tapes made out of "washi." If you aren't familiar with the term, "washi," it literally means Japanese paper, from the 和 (wa) meaning "Japanese" and the 紙 (shi) meaning "paper." Washi has been and will always be an important part of Japanese culture. It is even one of UNESCO's Intangible Cultural Heritage objects!
And now we'd like to introduce you to a unique kind of printer paper called, Kokuyo Inkjet "Washi" Printer Paper! These exquisite papers give off traditional Japanese vibes; taking your typed words and turning them into art work. Imagine printing letters and other documents on such comely paper... Receiving something so beautiful like this, it almost feels mottainai, right?
The Kokuyo Inkjet "Washi" Printer Paper series come in eight designs: 花霞 (hanagasumi) hazy blossoms, 水玉 (mizutama) polka dots, 花風 (hanakaze) petal wind, 紙切り (kamikiri) paper crafts, 金銀 (kingin) gold and silver,大礼 (tairei) imperial, 流雲 (rikumo) passing clouds, and 雁皮 (gampi).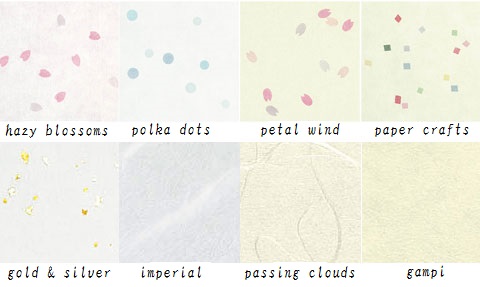 Even though the paper looks delicate, washi paper is actually a lot tougher than its wood pulp counterparts. You can even make origami with these papers, to prove its durability. Its soft, gentle design, along with its high quality, makes it a popular item in Japan. We have lots of Kokuyo Inkjet Washi Printer Paper here at J-Subculture. Just scroll down to see the beautiful selection we have, and enjoy!