What's adorable, fits in the palm of your hand, and brings joy to people around the world? It's Disney's Beans Collection! Disney is always finding new ways to bring their heartfelt, colorful characters to life. From one of their brilliant ideas came forth these tiny dolls. They were created to celebrate Walt Disney's 110th anniversary back in 2011, and have made a comeback just last year. Since it was his 110th anniversary, 110 characters were made into dolls for the Beans Collection.
One of the reasons why the Disney dolls from the Beans Collection are so special is their size. Since they fit in the palm of your hands, you can feel closer to your favorite Disney character. They're the perfect size for both collectors and children alike.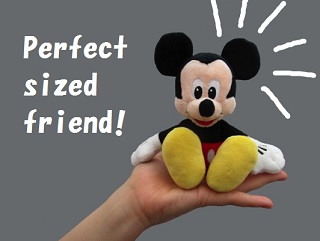 Since there are 110 kinds of Beans Collection dolls out there, there are so many ways to enjoy your time with your favorites! There are, of course, dolls of major characters such as Mickey Mouse, but also rare characters you normally can't find goods on. For example, Disney villains and characters from Disney's classical era. Then, there are characters from the collab with Pixar, such as those from Finding Nemo.
Let your Disney heart grow with these wonderful Disney dolls! Just scroll down for a sample of the kind of dolls we have out here for you at J-Subculture!