Himouto! Umaru-chan is a Japanese manga series created by Sankaku Head. It began serialization the manga magazine Weekly Young Jump from March 14, 2013. An anime television series adaptation by DogaKobo, aired in Japan from July 9, 2015 to September 24, 2015, and a video game was announced for the Play Station Vita.
The main character is Umaru Doma, a high school girl who lives with her older brother Taihei. At school, Umaru appears to be the ideal student with good looks, top grades, and a lot of talent. Once she gets home, however, she reverts into a layabout who spends her time lying around, playing video games, and constantly depending on her older brother. Over the course of the series, Umaru's alternative personalities help her become friends with her female classmates Kirie Motoba, who has a reputation of glaring at people; and Sylphynford Tachibana, her competitive school rival; both of whom turn out to be little sisters of Taihei's coworkers.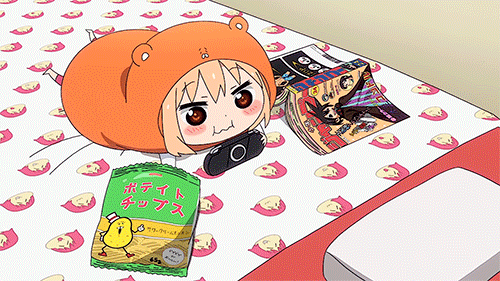 This adorable little girl named Umaru, who is 16, is a renowned beautiful girl in the town. The perfect sister! She has a kind heart and is so popular; everyone admires her… but once she walks into her room, she becomes a truly disaster! Follow her adventures and you won´t stop laughing!
This super cute and funny series has become a huge fan phenomena, and we know that you adore Umaru, her lazy behavior and her weird and lovely friends! That´s why we bring to you a great bunch of items from the series, such as card game character collection, acrylic key chains, nendoroid action figures, rubber strap 8 pieces box, etc. Enjoy Umaru´s world!