For products, scroll down to the bottom ↓
Only a little bit more than a month to go and Christmas 2017 will be here. You might already ponder and strain your brain what presents to get for others - and of course yourself ;). Well, here some ideas to complement any FIGURE COLLECTION. We went through our stock and screened the market for Christmas related collection figures. Below our selection, for which you might have to scroll a bit, but you will find funny, sexy, cute, unique and definitely something to put into your Christmas shopping basket. So let's get started!
Together with the HATSUNE MIKU PROJECT DIVA F 2ND figure (approx. 24cm) in the header, here is a second, all-adorable figure of the singing VALCOLOID pop music icon Hatsune Miku in Santa fashion. This figure is from this year's line-up of the HATSUNE MIKU PROJECT ARCADE FUTURE TONE and stands 23cm tall. Both figures, or statues if you want, are limited SEGA PREMIUM PRIZE goods (see also BANPRESTO to learn what award collectibles are). While the Diva F 2nd version has her turquoise hair fluttering to the sides with twintails, the Arcade Future Tone one has it open, but bit tucked up under her hat. They come with some neat details like fuzzy balls and lots of ribbons, looking just like your presents ;).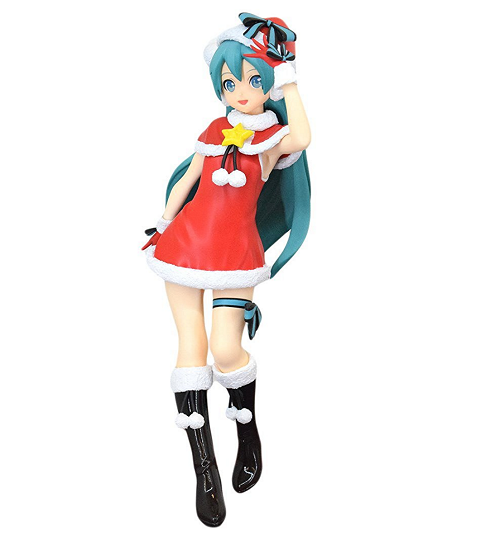 Next up is the bit more revealing FROLAYTIA CAPISTRANO from the anime series HEAVY OBJECT. She only wears a whiff of garnment, with the insanely short skirt and the black suspenders, Frolaytia brings you a busty Christmas surprise. This detailed MEGAHOUSE figure is 17cm in size.
Also the beautifully crafted 1/7 scale statue HIMEKURI IMAGE GIRL from KAIYODO let's little room for imagination as she 'innocently' lifts the rim of her skirt. Kind alike hinting to help her with the 'unwrapping' part. Kaiyodo is known for its skilled artists, which comes out in great many details and gimmicks as seen in this pretty statue that sits approx. 12cm.
Then here we have a bit a different type of figure, well it is actually a set of 5 mini FUCHICO CUP figures that you can use as decorations for your drinking glasses. Like an angel she descends on the edges of your cups or glasses to tastefully join for the bottoms ups. The 5 types are Christmas Fuchiko, Wine Fuchiko, Gift Fuchiko, Crystal Fuchiko and climbing Santa Fuchiko.
For the grand finale, we have a special treat with LIMITED AMAZON.CO.JP collection action figures that came out of a collaboration with REVOLTECH series of also the Kaiyodo brand. The Santa Amazon.co.jp-Box DANBO Christmas version is about 13cm in size and is accompanied by his loyal fellow Rupert POCHI POCHI, which is roughly half the size with 7cm. Both are poseable and highly articulated through revolver joints, plus they include a range of extra parts, with which you can play around and create different scenes.
So what do you say about this great selection of figure types? Something for everybody, we'd say! There are more figures listed below, which you can order at our SHOP or obtain through our AUCTION services. You are bound to find something among this choice of Christmas figures and statues. Should you look for something not here listed, just give us a shout and we will get the search done for you.
Please take your time to browse our various offers. Should you search for a particular item that is not listed below or otherwise not detectable in our storefront, please don't hesitate to contact our team, we will be happy to assist with any query and to search for specific items. Also PRE-ORDERS are possible in most cases. In the event that you would spot any errors for products, offers or other areas on our page, please inform us about it, so we may improve our services to provide a better shopping experience for the future. For the actual products, please be aware that they could differ from the images displayed here. With all that said, please enjoy your tour in our shop!