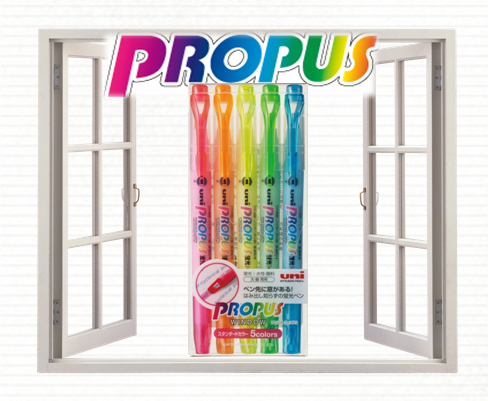 Don't miss this window of opportunity...own the highlighters of the future! Introducing Uni Propus Window Highlighters!
With both soft and bold colors, caps on both sides, and a functional "window" to their tips, Uni Propus Window Highlighters are a staple to any avid reader and note-taker. There is no better place to get these Japanese, five star highlighters than J-Subculture! We have an array of various highlighters avaliable for you here at affordable prices!
These highlighters work the best when it comes to taking important notes and annotating in books. On one side of the highlighter's tip, there is a window which allows you to see what you're highlighting! Sometimes we go over the top with our highlighting and end up highlighting words irrevelant to what we truly need to absorb, right? You won't ever have to worry about messy, irregular highlighting ever again with this highlighter! Also, these highlighters are "twin types," which refers to their double sides. While the thick tip applies the window design, the other tip is thin, which is great for making lines and circling parts of text you'd like to focus on.
As we mentioned before, there are highlighters that come in both soft and bold colors. You can choose from the style you prefer when highlighting. What is more, there is another series of highlighters that dry instantly! They're Uni Propus Window Highlighters' Q-DRY (quick dry!) No bleeding, no smudging, what more is there to desire?
There are also limited edition highlighters for all you Disney fans out there! They are Disney-themed highlighters, designed after your favorite Disney characters. They come in a total of five colors and super cute designs for you to enjoy!
These highlighters are a must for any stationery lover. If you're tired of boring, useless highlighters, then ditch them and grab some of these today at J-Subculture!