Live out your days under the sun, worry free with Shiseido's ANESSA sunscreen! Why stay under the beach parasol all day long, when you can dance in the sunshine and jump into the cool water? You can enjoy the warm weather freely with ANESSA!
ANESSA is the name of a sunscreen product line produced by Shiseido. You can instantly recognize an ANESSA product thanks to its unforgettable sun mark and bold letters. As you may know, the Japanese care for their skin very well, always paying attention to weather changes and adjusting their skin care routine as so. There are four beautiful seasons in Japan, but the harmful rays that the sun produces doesn't change. So, what sunscreen is recommended for all-year-round use? ANESSA of course! Here's when you may wonder, "why?"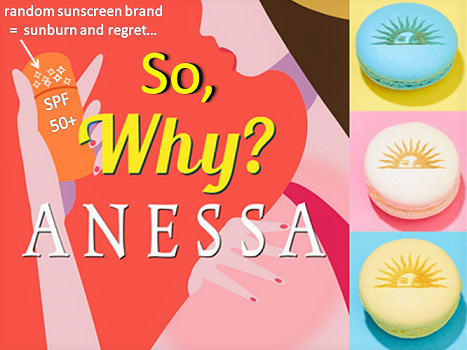 Although there are many sunscreens out there that claim to stop UV rays in their tracks, a lot of them might just be "labels" to attract more buyers. When looking for the right sunscreen product, is "SPF50+" the most important thing to focus on? Even when sunscreens have that seemingly trustworthy label on them, it can be quite misleading, and you might end up with an annoying sunburn anyway. So, what makes ANESSA so special? First of all, Shiseido has done research on how to deal with (and prevent) sunburn, thus producing many effective sunscreen products throughout the years.
You can totally trust such a long lasting, well known brand as Shiseido.
Second of all, ANESSA utilizes special technology that helps to protect our skin from the harsh sunrays. In ANESSA's formula, "aqua booster" technology is included to strengthen its purpose.
Through the use of ANESSA sunscreen, you will create an invisible film on your skin that blocks UV rays from damaging your skin. This film is absolutely incredible because it's waterproof and grows even stronger when in contact with liquids, such as ocean water and sweat.
Finally, ANESSA suncreen doesn't only work to prevent sunburn, but
also works to upkeep your skin's moisture levels, so you can have beautiful skin wherever you go.
This sunscreen comes off easily with soap and water, so you won't feel any unwanted residue after usage. Now that you know about the great merits of ANESSA, why don't you check out the top two products from this line of suncreen?
On the left we have
the silver colored "ANESSA essence UV sunscreen aqua booster sunscreen,"
and on the right we have
the gold colored "ANESSA perfect UV sunscreen aqua booster sunscreen."
While both of these brilliant products are highly recommened, be sure to know that there's a difference between them besides their colors and product titles. Both sunscreens have "aqua booster" to create the film that protects your skin from UV rays, they can both be applied on the face and the body, and they are both waterproof. However, the silver one works more to keep your skin
completely moisturized
and blends smoothly into the skin, while the gold one works more
to maintain a super waterproof effect!
Besides these products, there are sunscreens perfect for those with sensitive skin, suncreens made specifically for children, liquid type sunscreens, and so much more! If you're ready to leave your old life of painful sunburns behind, then step right up to get your own ANESSA sunscreen here at J-Subculture! You don't have to avoid the sunshine any longer.