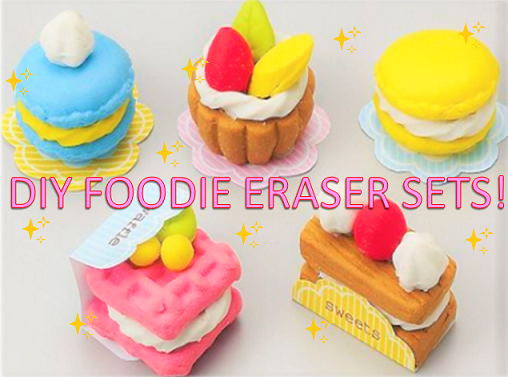 In Japan, there are so many kinds of erasers that you won't be able to count them all with just your hands. With the variety of erasers out there, it's kind of hard to come up with a new kind of stationery that'll shake the world.
So, instead of getting an eraser that everyone else has, why not make your own?
We'd like to introduce you to these awesome eraser kits that let you make your very own erasers! (Please note that these erasers cannot be eaten. Even though you may be tempted by their yummy appearances, please don't eat!)
They're easy and fun to make eraser kits! You can make erasers that look just like tiny replica foods!
There are tons of erasers in Japan that come in forms of food, but why settle for something unoriginal when you can make your own? Make these erasers with your friends or by yourself. You can pass the time in an enjoyable way and even get yourself some cool stationery in the end. In such kawaii sizes, you can even use them as little toys or keep them for collecting. You may wonder how you can create your own erasers. Do you have a microwave? Then it's as easy as pie!
Inside each kit, there's weird and wonderful clay that you can mold into erasers, molding plates that'll help you shape your clay into delicious looking sweets and foods, a cup/box made especially to help heat the erasers in the microwave, and paper cut outs you can use to make boxes and other things for your foods. Making these erasers is quite simple. First, mix the eraser clay to your desired colors. Next, just mold the eraser clay through the plates. Once that's done with, you can put your stationery masterpieces into the special cup/box along with water, and place it in the microwave. Once it's done heating, throw out the water and set your erasers aside to cool. Now you've got yourself some yummy-looking erasers!
What set will you make first? Sweets like donuts and chocolates? How about some Japanese favorites like sushi? Or are you more of a burger fan? Whatever you choose, you'll certainly be amazed by these DIY erasers. (And don't worry, they erase!) Scroll below for the kits we have here at J-Subculture today!