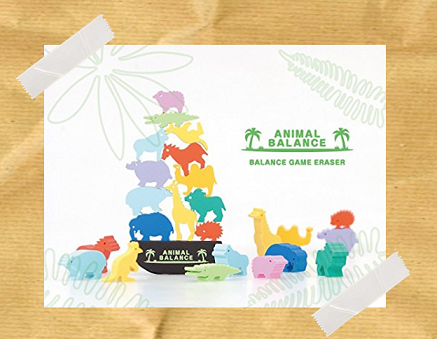 The Japanese stationery company SEED has come up with another amazing product that has users (or can we say players in this case?) all across the globe! We're happy to introduce this unique set of erasers today at J-Subculture.
It's Animal Balance Game Eraser Sets!
What are these? These are sets of miniature erasers that you can play with! Try to balance all the erasers evenly together. Race against your friends, or go solo in this game. When the erasers topple down, it's game over! Each set comes with tiny, adorable, and colorful erasers! Of course, since they are erasers, they erase properly. However, it's much funner to play with them rather than use them as ordinary stationery items. Check out some of the fun ways you can play with these erasers:
Each eraser set comes with many cute erasers! Why should stationery sets have to be boring? Have fun with your stationery and be flexible in the variety you have! These sets also make quirky knick knacks atop your desk. You can give them as presents for your stationery-crazed friends, or as prizes for good students. Want to have your own zoo? How about your own aquarium? Ready to bring the dinos back to life?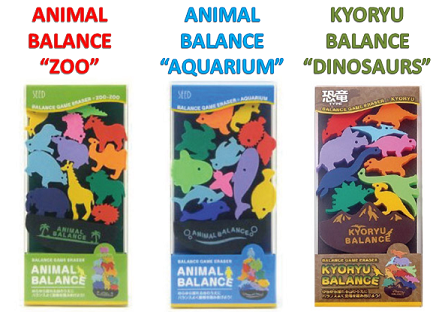 There are a total of three sets:
Animal Balance Zoo,
with animals such as camels and hippos,
Animal Balance Aquarium,
with animals like fishes and penguins, and
Kyoryu Balance Dinosaurs!
(Kyoryu means dinosaur in Japanese.) You'll be amazed by these erasers, and never tire of them. Scroll below and get your own set today, at J-Subculture!