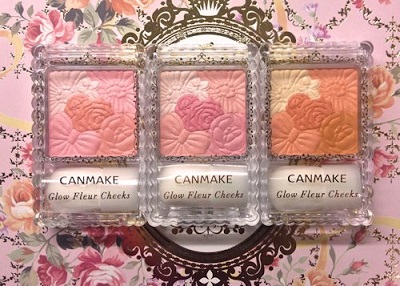 CANMAKE's makeup is arguably one of the most favored brands of makeup in Japan, especially amongst Japanese young girls. CANMAKE provides a myriad of makeup products to suit all skin types, even those who are sensitive. They come in sweet, lovely designs for affordable prices! Today at J-Subculture, we'd like to introduce of the their products called "Glow Fleur Cheeks," a series of flowery blush that brighten the apples of your cheeks.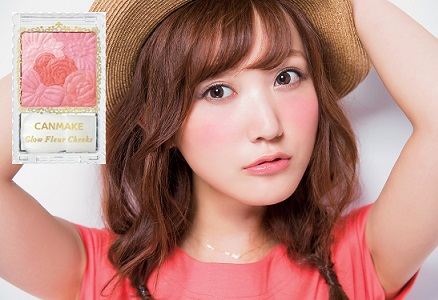 Each case of CANMAKE's Glow Fleur Cheeks is decorated elegantly, so it's as if you're carrying around a case of sparkly flowers and ribbons with you like a princess. Having Glow Fleur Cheeks will make you feel like a lovely flower girl! Using three to four strokes of the product on your cheeks leave you with a lustrous blush that lasts for a long time. It's surprising how long it lasts in a great condition despite coming in a powdery form. Its secret is its very powder that includes the use of silica, which helps to absorb excess sebum from your pores and keep your makeup in place. This product is absolutely free from the following: alcohol, fragrances, mineral oils, and petroleum-based surfactants.
Glow Fleur Cheeks come in seven styles with equally pretty names: Peach Fleur, Apricot Fleur, Fairy Orange Fleur, Strawberry Fleur, Wedding Fleur, Milky Fleur, and Lemon & Cherry Fleur. Each type has a distinctive color to up your beautiful face!
We have some of CANMAKE's Glow Fleur Cheeks just for you, as well as many other CANMAKE products. Be sure to scroll down for your very own bouquet of lovely makeup today!