For products, scroll down to the bottom ↓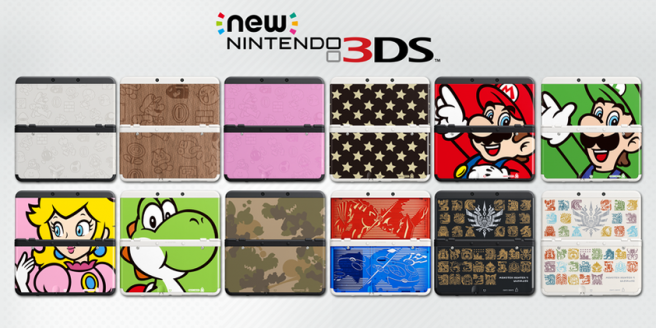 For a change! Nintendo's creativity is not limited to the screen, but may also be found plentiful when it comes to manufacturing games accessory.
For instance the so called 'dress-up plates', which are decorative cover plates that can be attached and exchanged for the NEW NINTENDO 3DS**console. There is an abundance of designs related to SUPER MARIO, POKEMON, LEGEND OF ZELDA, KIRBY, MONSTER HUNTER, ANIMAL CROSSING and SPLATOON among many more stylish and popular Nintendo themes. What is more, different textures are available too, such as wood panel or embossed types. You may experiment with the covers and customize them the way you like it, coming up with ever new creations for your 3DS console. New patterns are gradually added, so that you don't run out of 'dressing' options!
** not compatible with New Nintedo 3DS XL
Please take your time to browse our various offers. Should you search for a particular item that is not listed below or otherwise not detectable in our storefront, please don't hesitate to contact our team, we will be happy to assist with any query and to search for specific items. Also PRE-ORDERS are possible in most cases. In the event that you would spot any errors for products, offers or other areas on our page, please inform us about it, so we may improve our services to provide a better shopping experience for the future. For the actual products, please be aware that they could differ from the images displayed here. With all that said, please enjoy your tour in our shop!