Your Cart
There are no products in your cart.
---
About the Service of J-Subculture.
We can purchase products and ship them to you, on your behalf.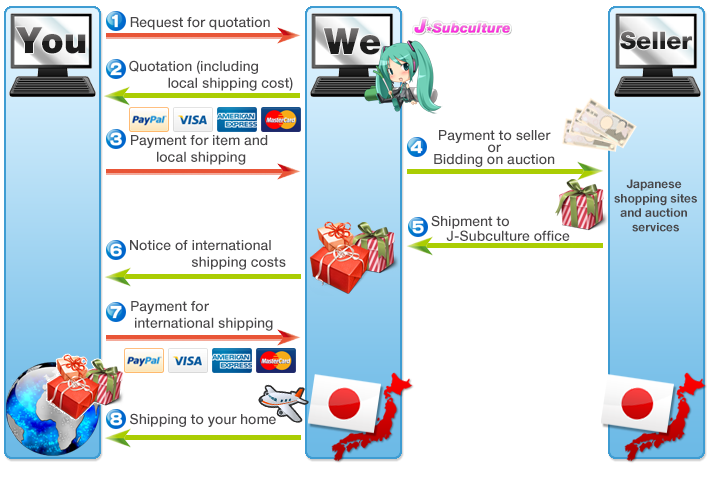 ---
Attention: A Note About Cost
A domestic mailing cost, a transfer handling fee, and
an international mailing cost
are required besides the above-mentioned price.
Shopping Cost.
Example(JPY)
Pricing
Product Price
5,000JPY
Commission
750JPY
500JPY + 10% 350JPY + 8%

*discount

Handling fee(Bank fee)
172JPY
*Rates may vary.
172JPY[other banks] from 1JPY to 29,999JPY
270JPY[other banks] from 30,000JPY
302JPY[Japan post bank]

COD (Cash On Delivery)
0JPY
Rates may vary.
Local delivery fee from seller to J-Subculture
250JPY
Rates may vary.
Transaction Fee
281JPY
3.9% + 40JPY
6,453JPY
The fixed handling fee of 350JPY will be only charged once for purchases at the same shop. However, in case of purchases for more than 20 pieces at the same location, from the 21st product on another 350JPY will be charged. In other words, 350JPY handling charge for bulk orders per 20 products is applicable.
Shipping cost.
Example(JPY)
Pricing
Shipping Commission
FREE
FREE
International Shipping
1,100JPY
*claim of actual expenses.
International mailing charges list
Transaction Fee
83JPY
3.9% + 40JPY
1,183JPY