Raised by cats until he was five, Yamato Delgado's only dream was to play B-Daman the official sport of the B-DaWorld. However, his dream comes true when he's chosen to wield the most powerful B-Daman ever; the legendary Cobalt Blade, only Yamato has skills to harness its power. Using the legendary B-Daman, Yamato enters the Winners tournament organized by a group (the JBA in the Japanese version and the IBA (International B-Daman Association) in English version) to become the B-DaChampion. He and his friends use the sport of B-Daman to fight against the nefarious Shadow Alliance. The Shadow Alliance (called simply "Shadow" in Japan) are the main antagonists of Season One with goals of B-DaWorld Domination. Some members of the Shadow Alliance have a 3rd eye which is the symbol of the Shadow Alliance and is a sign that the character is under Marda B.'s control.
B-Daman is also a marble shooting game produced in Japan by Takara Tomy, the blaster's design is a humanoid figure at the center, from which a specially made marble, is launched (but even other marbles of the same size may be used). Different attachments are used to change a B-Daman's accuracy, power, balance, control, and rapid fire. They are customizable and each have a special gimmick. The original look of the B-Daman character was based on Bomberman (hence the name of the original version of the original toy: "Bomberman B-Tembak"), but the belt buckle is replaced with a "marble".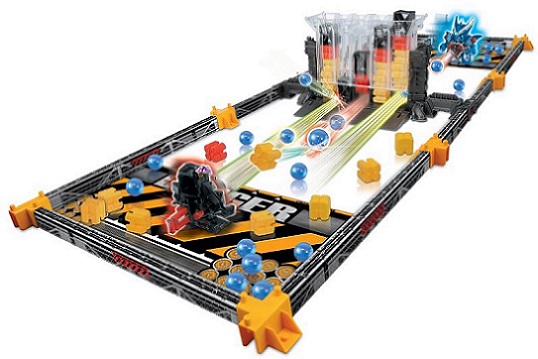 In the B-Daman CB-31 Break Bomber the target is a wall of blocks that are knocked into the opponent's field when hit with the marbles. The blue character and the grey character each have a hopper on the back that holds 10 color-coded marbles. Then, you just blast away, knocking these blocks out from the bottom of the structure at the center. The object is to be the first to blast three red bricks into the opponent's field.
Only a few have what it takes to become a b-daplayer, will you become the b-DaChampion?