It's time for Halloween! One of the most scary nights of the year is finally here and in J-Subculture we want to celebrate it with you. Costumes, pumpkins, vampires, mummies ... everything gets more spooky and fun this night, a perfect chance to celebrate and party with your friends. If you are as fan of Halloween as we are in J-Subculture, you gonna love this special and unique Halloween edition of Lego & Nanoblock!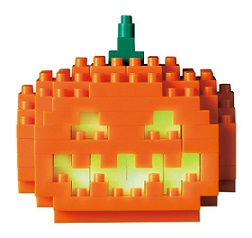 In this special edition of one of the most famous block construction brands, Lego bring us this spooky sets were spiders, ghosts and bats take Lego square forms, kind of cute if you ask me ...


If you like Halloween you're gonna fall in love with the particular way in which Nanoblock decide to celebrate this date, like Hello Kitty? Meet the Nanoblock Halloween Kitty! or this tinny and scary Nanoblock Halloween Frankenstein monster, spooky!


You can find Disneylands all over the world and as you may know, there's one in Tokyo, full of funny zombies, mummies and vampires at this date of the year, and they team up with Nanoblock to make this celebration even better! Meet the creepiest Mickey and Goofy ever!


But that's not all, today we bring you a good collection of different types of spooky Nanoblock and Lego packs, celebrate Halloween with J-Subculture!