You may read o listen to the news of the upcoming Evangelion bullet train, and finally the first departure and christering ceremony of this unique bullet train have taken place! The Evangelion bullet train was set to take passengers from Fukuoka to Osaka and the ceremony and departure of the train, which is called 500 Type Eva, took place at Hakata Station in Fukuoka on November 7.
The Ceremony also saw the opening of the 500 Type Eva Caffe, where visitor can try special Evangelion-themed eats, in addition a unique Evangelion shop offers exclusive merchandise.
The Evangelion bullet train is full of details, part transportation method, part interactive museum, the Evangelion bullet train is the dream of any anime fan. Seats with the NERV insignia, dioramas from the show, smoking rooms were some of the characters of the anime are plastered on mirrors like they're standing next to you.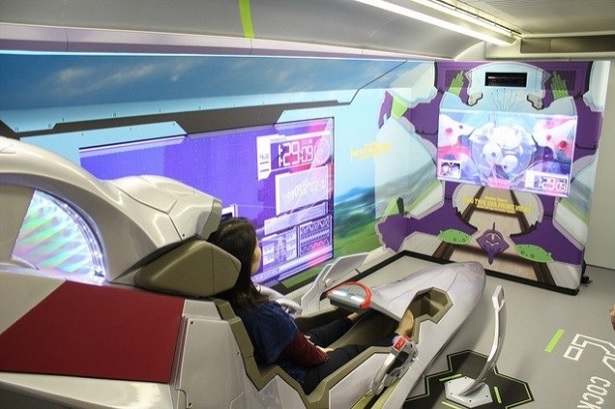 But that's not all, the best part, the pièce de résistance, the icing on the cake, is the compartment where you can hop in a replica of the cockpit of an Eva unit, yeap a real size replica of the Eva unit cockpit with interactive screens that let you experience what it's like to be Shinki Ikari even thought everyone would rather be Rei or Asuka, but if you're already dreaming of piloting this Eva unit, note that you'll need to plan ahead and the applicants to sit in the cockpit will be selected by lottery from people who apply via the official site.
The exterior of the train itself is painted to look like the Eva Unit 01 and it will be running from November this year until March 2017!