Gurafigu ( Graphig ) is a Japanese papaer craft toy that bring together design and anime character figures. The design is created by one of the graphic designers who conform the group NC Empire, a unit formed by Nasos, responsible for the concept of Gurafigu anime paper craft figure line, E-ta and Kakka, all graphic designers who studied together, the NC Empire group design logos, T-Shirts and CD jackets, in addition each of the members of NC Empire runs their own project.
The Gurafigu anime paper craft figure line characters have been designed so you'll not require scissors no glue to mount them. Featuring some of the most well known anime characters from your favorite animes and Japanese video games like, iDolm@ster, Hatsune Miku, Super Danganronpa 2, Hidamari Sketch, Tales of Xillia, Black Rock Shooter, To Heart 2, To Love-Ru, Love, Elections & Chocolate, Gunslinger girl, Hanasaku Iroha or Horizon in the Middle of Nowhere.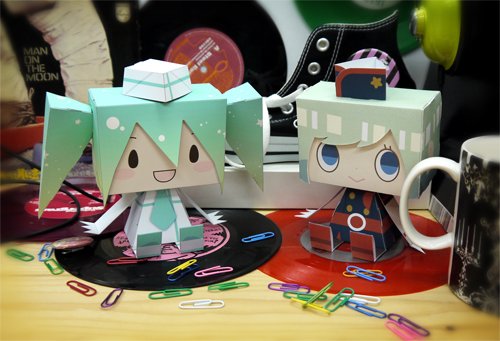 Few weeks ago we introduce you the Hatsune Miku ABS figure
, a paper doll shape figure made of plastic from, like this figure, the Gurafigu anime paper craft figures are the perfect choice for you to transform your desk or even your working space,
in J-Subculture we firmly believe that there's nothing more Kawaii that what is made by yourself,
that's why we're pretty sure that you're gonna love this paper doll figures.
In addition to the, no glue-no scissors, feature of this paper dolls, the Gurafigu anime paper craft figures can be mount in just a few minutes, about 10 more or less! Don't miss this chance and collect them all!