Kaiyodo is a Japanese figure manufacture company with headquarters in Kadoma, a city located in Osaka prefecture. Originally a small shop they grew into a famous company who nowadays sell collectibles all over the world, Kaiyodo's Revoltech features their unique "revolver join" articulation system which gives the figures a large range of motion and stability. This special join system for this series figures articulation allows a large number of dynamic and varied poses.
We know that many of J-Subculture customer are interested in Japanese culture, for many of them this is the point of no return, when you fall in love with Japan, there's no way back. We are in love with the Japanese culture, it's our duty and joy to bring and introduce you the best Japanese products every day. Today we want to introduce you a important part of the Japanese culture, the Buddhism by one of our products, the Kaiyodo Takeya Revoltech Series.
This series of Buddhist gods figures features Kaiyodo's revoltech technology. A complete series of the most known Buddhist gods and creatures realistic figures full of details, available in prepainted, wooden or iron reddish version. This series allows you to get fully into the Buddhist gods and mythology.
Kannon is the Buddhist deity of mercy, associated with compassion is generally represented either as a men or as a woman, has the supernatural power of assuming any form and relieve suffering of those who call up her name. Kaydo's revoltech Kannon prepainted figure features a colorful design full of details.
The Kaiyodo Takeya Revoltech Kagura figure represent a divine creature called Kagura, with a human torso and birdlike head is said to be enormous and used to feed on dragons and serpents. Only a dragon with a Buddhist talisman, or those converted to the Buddhism can escape from this fire-breathing creature from the prepainted Kaiyodo Takeya Revoltech series.
The dragons are probably one of the most representative iconics of the asian and Japanese mythology, and the Kaiyodo Takeya Revoltech Ryu figure is simply breathtaking! In Japanese mythology they are usually water deities associated with rainfall and bodies of water. Full of details, with a large variety of poses, and in a stunning iron reddish finish this is the perfect figure for giving a Japanese style touch to your desk!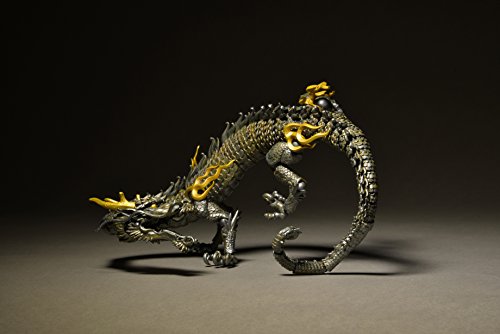 Kirin, the most famous Japanese beer takes its name and icon from this chimerical creature of the Buddhist mythology, in the Kaiyodo Takeya Revoltech Kirin, this dragonish horse is faithfully represented in an iron reddish figure full of details.
This is just a small part of the whole Kaiyodo Takeya Revoltech series, take a look to our list and discover the rest of the Buddhist gods this unique figure collection brings to you!