In J-Subculture we are huge fans of fountain pens, they are classic, timeless and elegant way of writing, the indisputable kings of the stationery goods. Although we don't think about fountain pens like a fancy way of writing, and even though there are super expensive ones, in J-Subculture we have a wide variety in all price rages. Despite the tittle, today's article is not about the price. Today's article is about our constant effort to bring to our customers what they really need, today's article is about our funny and colorful fountain pens for kids!
We love fountain pens and we know the importance of kids to fall in love with hand writing in a world full of keyboards and touch screens. Cursive writing can help kids building on their fine motor skills, and fountain pens can be part of the fun, but you'll need a proper tool for it, something as fun as attractive that motivates and catch the attention of kids.
We have a wide range of this "ready for kids" fountain pens that will make the wonders of those potential new little writers and artists without making a hole in their parents wallet.
In J-Subculture we have a weakness for quality, and Pilot's products have demonstrated it over the years. For Japanese companies like Pilot their customers are the reference and in their "Kakuno" Fountain Pen line, kids are the reference. The "Kakuno" fountain pens features a standard Pilot quality nib with a smiley face on it, and a plastic hexagonal shape barrel and cap. Simple but funny and colorful design who keeps an excellent performance, perfect for kids!
Lamy ABC is Lami's response for those kids ready to take writing seriously. With some shape to help ensure proper grip and an A nib, the Lamy ABC's design is available in red and blue color. This special fountain pen uses quite large Lamy cartridges so you don't have to worry about running out of ink so often, in addition you'll be able to get a converter and teach your kid how to fill it with bottled ink, making the Lamy ABC the perfect tool to grow into.
Our last recommendation is another "Junior" fountain pen, the Pelikano Junior Fountain Pen. The rubberized grip of this fountain pen offers a comfortable non-slip grip with a medium point nib perfect for young writers. This fountain pen come with three stick-on name label to avoid confusions at class if there's someone with the same color, this name label is placed inside the plastic translucent body. All this features makes the Pelikano Junior Fountain Pen one of the most comfortable and easiest writing pens for young students!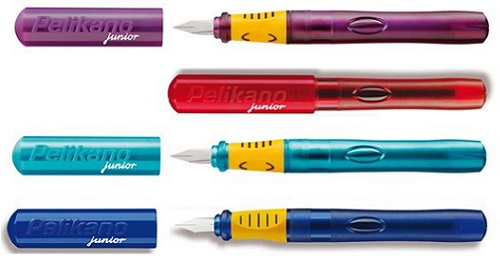 And this is just the beginning, today we have a special selection of the best "Kids ready" fountain pens, don't forget to take a look to J-Subculture list and let your little writer's imagination run free with J-Subculture Fountain Pens for Kids!