There is no "one-size-fits-all" solution when we talk about ergonomic pens, there are a lot of options in the market and the ergonomic requirements will change from person to person, depending on the shape and size of the user hands, as well as any physical problem like arthritis or carpal tunnel.
With that in mind is important to take a look to the different options and choose the right one for you. Some characteristics like, shape, weight, grip or ink flow directly influence in the ergonomics of the pen. Today we bring you an oddly-shaped roller ball pen from Stabilo, the STABILO EASY.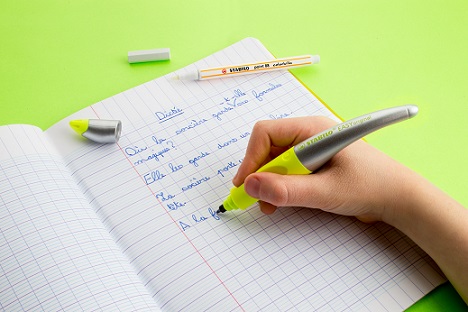 In this roller ball pen you'll be able to rest your forefinger and thumb in his flawlessly shaped grooves. Growing thicker toward the middle of his body, this unique pen's belly crates a ideal curve that will fit in the hook between your thumb and forefinger, there's also a left-handed version to maintain good form if you are lefty.
With a plastic body and available in 5 different colors the STABILO EASY is perfect if you are searching something to kill the pain of your hand or maintain the good form while you are writing.