A Japanese style lesson bag it's a simple and funny textile craft, perfect if you want to make something easy and incredibly useful for your daily life. In Japan, due to the textile art & craft fans, this kind of bags are usually handmade and very popular not just among kids but for all ages.
Despite the simplicity of their shape, usually a rectangular tote, the "kids lesson bags" features an endless number of designs. Without changing their basic form, you'll find a thousand of different colors and patterns, there's always a "kid lesson bag" who fits your style and personality. You can make it or you can buy it, they're handmade anyway!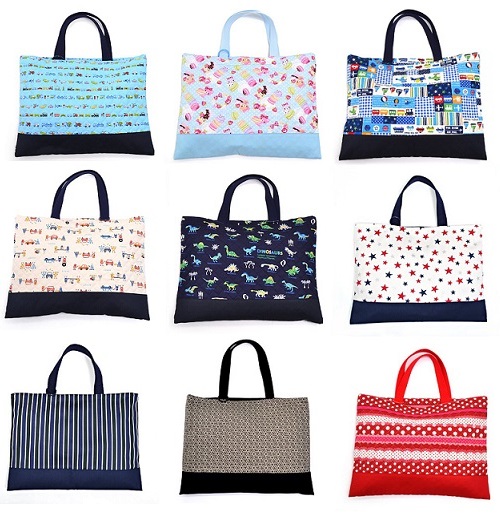 They were designed like an easy and comfortable way for kids to carry files and books to school in addition to the traditional Japanese leather backpacks or "randoseru", but gradually and due to their easy to make and customize character, the "kids lesson bags" began to be used more like another style of tote bag. Their shape, bigger than a tote bag, and design, better materials with a reinforcement at the base, make them a perfect alternative for those thin and cheap tote bags, some of them they are even reversible!
Either you need a bag for your kids to bring their books to school or you want to change that ugly and small tote bag for a colorful, well designed and durable one, J-Subculture brings you a unique collection of "kids lesson bags", you always can make your own, but let us be realistic, is easier this way ; )