Bandai's Pikachu Nebukuro (sleeping bag) collection from its Ichiban Kuji lottery series is increasing. Starting this January 30, the participants are going to have the chance to win an adorable 9 different prizes. What makes this lottery the most adorable ever is the way its features one of the cutest and most iconic Japanese character of all times, Pikachu. In this unique collection Pikachu seems to be to tired to do anything else besides taking a nap inside the sweetest sleeping bags ever. This half sleeping bag, half pajama, keeps Pikachu warm and increase its cuteness featuring some of the best known Pokemon characters.
This new prizes will include; a smiling Pikachu inside Eevee sleeping bag as an A prize, a peacefully sleeping Pikcachu inside Snorlax sleeping bag as a B prize, a surprise expression Pikachu inside Flareon sleep bag as a C prize, a Milk mug as a D prize, a socks with Eevee or Snorlax design as a E prize, a cellphone strap plushies with Gengar, Snorlax or Flareon design as a F prize, a keychain with Eevee, Charizard, Snorlax, Ekans, Flareon, or Gengar design as a G prize, a towel with Eevee, Charizard, Snorlax, Zubat, Flareon, or Gengar design, and a Pikachu inside Gengar sleeping bag as a "the last one" prize.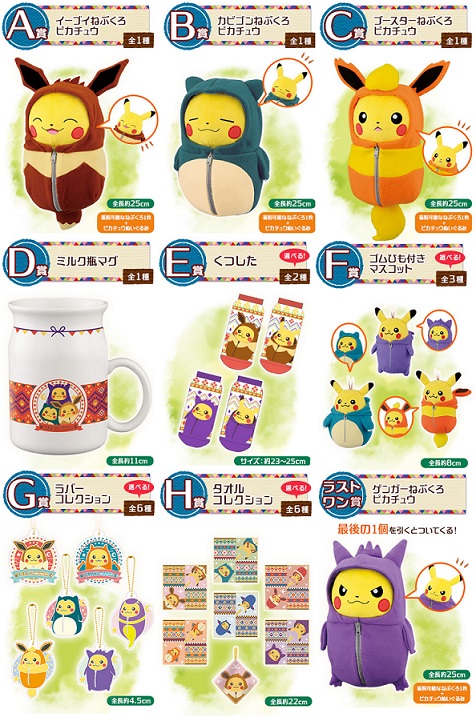 The system is very easy, you just have to go to the store, buy the lottery ticket and they'll open it for you and you'll get the prize according to the letter in your ticket, if your prize have different designs you'll ask to select your favorite one.
Since you need to go to the store to buy your ticket, it's impossible to try your luck if you're not in Japan, but there's always people who buy and then sell their prizes via auctions sites, still impossible to find the new prizes of the Pikachu Nebukuro collection since the new lottery starts on January 30, but as we told you this is an expansion of the collection and the previous one it is available in our favorite auction web site, today we bring you a huge list of the previous Pikachu Nebukuro collection auctions, don't forget to check it out!