Here we are again with another product from our "Bento Box" series, and today we want to introduce you the Bento box carrying drawstring bags. The Bento culture is one of those things that proves how Japan traditions keeps alive in nowadays society, it is simple, it is fun, and it is convenient, Bento boxes and accessories are designed following this rules, and not just the box but the food itself is made to be as convenient as the rest of the accessories who compose the Bento box.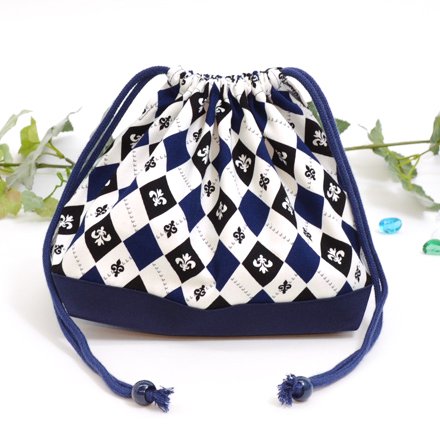 The accessory we bring you today is probably the most important of the Bento box set. This bags are extremely convenient and stylish, you can carry your Bento and all the additional accessories like chopsticks, spoon, fork or sauce containers. Despite the main purpose of this bags they're the perfect storage solution, their closing system, with strings you can tie up, allows you to carry your belongings anywhere in a very practical and fashionable way.
With our small, medium and large Bento box drawstring bags you'll be able to bring your Bento with you no matter the size. The small size is perfect for carrying your small Bento box or storage your small objects. It is, for example, a perfect pencil case for kids, or nice travel bag for small objects like your passport or wallet. Take a look and choose your favorite one!
The medium size will fit your two or three level Bento box perfectly! With a huge variety of designs and patterns they feature a reinforced bottom, bring you Bento and all your accessories with the extra space the medium size Bento box drawstring bags brings to you!
If you need more space, our large size Bento box drawstring bags will suit your extra space necessities. Bring your Bento, or use it as the perfect back pack and storage system. Beautifully designed kids and adults will fall in love with them, the perfect solution if you need a travel bag with enough space for all your belongings.
Bring your Bento, storage your stuff or use them as a travel bag or backpack, one way or the other J-Subculture is the perfect place for choosing your Bento box drawstring bags!