Furoshiki is a traditional Japanese wrapping cloth, it is used in many different ways, it is used to transport clothes, bento boxes, Sake, Nihonshu or Umeshu bottles. It is also used as a simple hanky or picnic blanket. Furoshiki began to be used in the Nara period Japanese traditional baths or Osen, the users used to tie up their clothes in Furoshiki to prevent a mix up of their own clothes with other bathers ones. This system of folding expanded and started to be used by merchants to protect and carry their goods, products and precious belongings.
Nowadays Furoshiki´s are made using different materials like cotton, nylon or rayon. Even tough it is a traditional and old utensil, Furoshiki has adapted perfectly to new Japan times, and its use has increase tanks to the Japanese government, promoting the Furoshiki as an ecologic alternative to the plastic bags, the Ministry of the Environment campaigns propose it to ensure environment protection not just in Japan but worldwide.
But this Japanese wrapping cloth it is not just a perfect alternative for plastic bags, it can also be used as a card wrap, a body wrap, or a bandana. Thera are a thousand of different techniques for using the Furoshiki, if you take a look to the internet you´ll easily find them, but today we want to show you few of them to prove you that the Furoshiki is not just a simple hanky;
Use it as a bandana! Take your favorite Furoshiki and place it flat, fold two its corners and repeat folding to the center until Furoshiki gets narrow. Now you have a perfect bandana, just place it above forehead and tie it!
Use it as a card wrap! Place a card in the center of your Furoshiki, fold one of the corners, the Furoshiki will look as a triangle, fold corner d and b again, bring corner b over the card and tuck it inside, now bring corner a over the card ando close your card holder!
Use it as a body wrap! Fold Furoshiki into a triangle, place a and c corners around your waist and tie it in the back, place b and d corners around your neck and tie it, there you have, a perfect t-shirt for summer!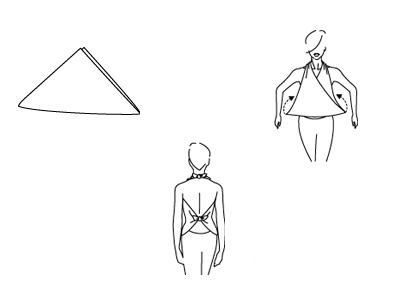 As you can see Furoshiki can be used in many ways, there are thousands of designs and patterns to choose from, make your own collection and enjoy your daily life in a ecologic and elegant way with the Japanese Furoshiki.
Today we bring you a carefully selected list of our best Furoshiki deals just for you, don't forget to check the list, Furoshiki and J-Subculture will make your life a little bit easier :^ )