SOYJOY is the name of these awesome, all-natural snacks. They come in bars, and each bar is made from soy. Soy is a very popular ingredient in Japanese health foods because it is highly nutritious! SOYJOY was produced in 2006 by the Japanese company Otsuka Pharmaceutial Co., Ltd as a health food. Since SOYJOY come in individually wrapped bars, they're perfect for eating on the go, as well as satisfying one's appetite when they're in need of a quick boost of energy.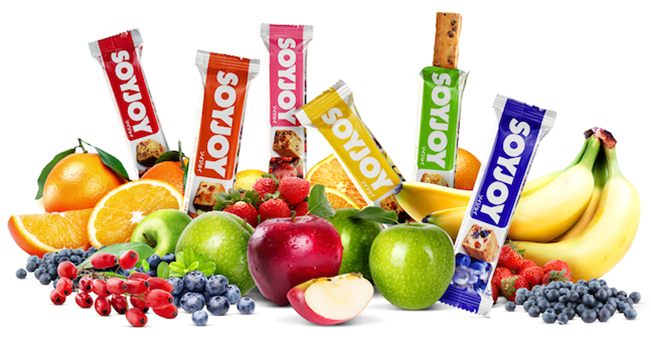 SOYJOY was put out on the market as the new shape of soy snacks in Japan. What makes it stand out among the rest of the soy snacks is how it completely uses soy over the use of flour. The use of soy is completely natural, so that way the body can fully absorb the benefits that come in consuming soy. The soy used in each SOYJOY bar is non-genetically modified, high quality soy. Each bar contains about 130 calories, which is considerably low. The ingredients used in SOYJOY are mixed evenly and packed together into the shape of the bar, so it doesn't crumble easily, which leads to making a mess. From SOYJOY, you can get vegetable protein, soy isoflavon, and more! SOYJOY uses real fruit, which adds fruity, sweet flavor to its bars. When you take a bite into a SOYJOY bar, you can actually see the fruit used in SOYJOY! SOYJOY is sooo good for you, so it's hard to imagine going back to other snacks after a bite of SOYJOY.
You can indulge in the delicious variety SOYJOY has to offer. Its standard flavors are: dark chocolate cherry, cranberry, banana, hawthorn berry, mango coconut, strawberry, and blueberry. There are also almond chocolate, raisin, prune, peanut, cacao orange, and more!
We have bars of SOYJOY here just for you at J-Subculture, so add more joy to your healthy life with SOYJOY and eat to your heart's delight!