Calling out to all people out here on J-Subculture with a sweet tooth! Ever gone a day without dessert or something sugary? I know I haven't. I could never go on in life without sweets...and that's not an exaggeration. Life would be so sad and drab without the existence of cake, chocolate, and wagashi (Japanese confections). There isn't a day I'll ever stop indulging in sweets!
At J-Subculture, we have a variety of sweet-themed goods, both edible and inedible. We always strive to recommend you the latest creative items that'll make you stand out in the crowd and satisfy your needs. Today we'll introduce you to "Yura Plug." What is it? Yura Plug is an earphone jack accessory produced by Alta. There are various kinds of accessories they make, but our favorites are the ones from their sweets collection: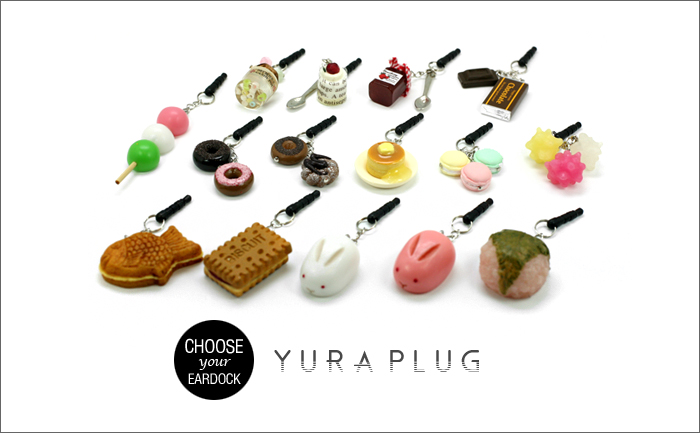 Don't they look good enough to eat? Of course, you can't eat them, but that doesn't mean you can't enjoy them. As you can see, there are different kinds of plugs, from "wagashi" such as taiyaki (Japanese fish-shaped cakes), to donuts and macarons! You can savor these adorable accessories by simply plugging them into the earphone jack of your iPhone or smartphone, like so:
It's miniature food you can carry with you anywhere, anytime! Isn't that the cutest thing you've ever laid your eyes on? If you can't live without sweets, and want something to represent your passion for them, Yura Plugs are a great choice. They're portable and give your phones an instant plus in cuteness. There are 15 different types of sweet Yura Plugs on the market so far, and we have some avaliable just for you!
If you need some sweetness in your life, these Yura Plugs are totally the items for you.