They're intricate, sparkly, and 3D! Introducing Beverly Enterprises Inc.'s 3D Crystal Puzzles!
( Here's a link on a how-to about the Crystal Puzzle above: www.youtube.com/embed/du8SBKgPHDA )
These astounding puzzles are complicated, as they involve multiple pieces--they're challenging, new puzzles that'll rock your world! They're perfect time killers, as well as brain trainers. When you interlock the transparent pieces together, you'll form these amazing 3D figures! There are so many puzzles out there, like character puzzles, puzzles of famous buildings, even puzzles of daily objects, so the possibilities never end!
Crystal Puzzles aren't your average puzzle. They demand dedication, and can only be complete by hardcore puzzle masters. Do you think you have what it takes? Let's look at a couple examples that are more on the intermediate level:
Here we have a beautiful, dazzling crystal puzzle horse. As you can see on the left side of the image, there are jigsaw puzzle pieces that you arrange together, and lock into the main parts of the puzzle to form the large product. When you're finished, you're left with a shiny, one of a kind knick-knack you can have to decorate your home.
Now take a look at this Pikachu puzzle. Sure it has many parts to it, and at first it seems like a yellow pile of random parts, but upon completion you have your very own Pokemon Crystal Puzzle! It's not limited to Pokemon though. We have Star Wars puzzles, Disney characters puzzles, Snoopy, Miffy, and tons more!
And, if you want to make your finished masterpieces absolutely shine, you can separately purchase an LED light stand to place underneath each crystal puzzle. Then they'll truly live up to their name, in style!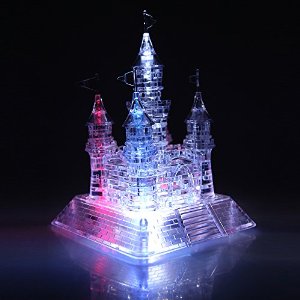 These 3D Crystal Puzzles will provide you with hours of endless fun! We have over 60 crystal puzzles to choose from; varying in color and design. Choose your favorite puzzle, and get right to it! When you've completed it, the feeling of satisfaction will certainly take over you. But then, you'll want even more challenging puzzles! That's when you can obtain new crystal puzzles right here at J-Subculture! You won't be disappointed.