At the beginning granola was a relatively unknown breakfast in Japan, even though granola from Calbee has been around for years. In 2013 the granola consumption exploded to 18,802 tons, compared to the 6,942 tons of 2010. Japan love granola, it´s like a healthy pandemic!
In J-Scubulture we love to bring you healthy and tasty products, and today we want to introduce you to Japan´s new trend, Japanese style Granola! We bring you the perfect breakfast, with three of the best known Japanese granola brands, Nissin, Kellogg and Calbee. Mix them with milk or add some granola to your yogurt the result is always the same, crunchy and tasty!
Our first brand Nissin, brings you two different versions of this amazing and super healthy breakfast, Nissin Dried Beans Mix and Granola, and Nissin Dried Fruits Mix and Granola. Nissin Dried Beans Mix and Granola comes in a 480g bag with 3 different dried beans and more than 10 different ingredients! Nissin Dried Fruits Mix and Granola comes in 600g bag with 4 different dried fruits.
Kellogg is also a well known granola brand in Japan, the economical bag of 500g dry fruit and granola mix by Kellogg is the perfect choice if you want to save some money, but if you need something bigger, with the 5 pieces and 215g "4 times" Kellogg granola you´ll never run out of granola again!
But if there´s a winner brand in Japanese granola world that´s Calbee an their wide granola mix offer. My favorite granola brand by far, Calbee´s 380g Dried Fruit and Black bean & Kinako is perfect if you´re just an ocasional granola eater, if you eat granola everyday you´ll probably prefer the 800g granola and dried fruit mix, or the 1.2kg one, perfect for families!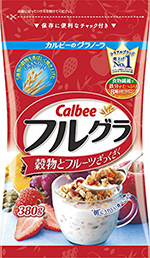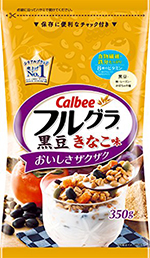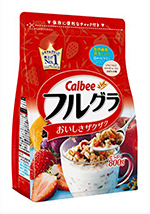 Now you can give a healthy and tasty touch to your everyday breakfast with Japanese style granola and J-Subculture, don´t hesitate to order some of the best granola in Japan your health will love you for it!