What's one part of make-up that you can't do without? You've guessed it--blush! It has many names: blush, blusher, rouge...using it will completely change the way you look, from appearing mature and sophisticated to young and sweet.
One popular brand of make-up in Japan is CANMAKE TOKYO. Canmake cosmetics come in petit sizes, with affordable prices and adorable designs. They're girly and pretty cosmetics that everyone adores! Having Canmake cosmetics at hand in your make-up routine would be very helpful, since they're very compact. Canmake has a variety of blush, but their most sought out product is Cream Cheek Blush! Look at its super-cute design, and its charming color! The Canmake logo is within a sparkling heart, and the case is designed like a jewel. It's small, so you can take it with you wherever you go. You don't even have to use a cheek powder brush--you can apply it easily with your hands! It's the perfect tool for achieving effortlessly good looks.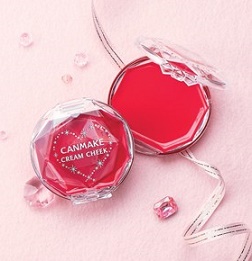 To use this product, it takes just two simple steps. Just apply it to the area you please using your fingers, making a row/rows of dots. Then, smooth your cheeks using the cream cheek blush you've applied. It's that simple! It's finely pigmented, so you can apply one layer of cream cheek blush for a natural complextion, or you can apply multiple layers to deepen the color to your liking. The emollient agents it contains works great on your skin, so it helps to prevent your skin from drying out. It's highly compatible with many kinds of foundation, and lasts for long periods of time on your skin.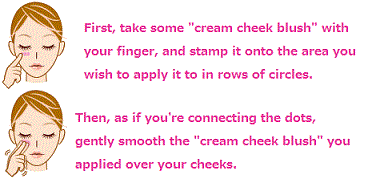 There are nine lovely colors to choose from, with names that'll certainly make you smile. Canmake Cream Cheek Blush is almost like a gel you apply on your cheeks. It blends well, looks great, and heightens your beauty. You'll look naturally flushed in no time!
These little cases of blush go a long way! They're essential products for any lovely and sweet person out there. If you're interested in trying out a new look, why don't you get a Cream Cheek Blush today? For people who want shiny, lush cheeks, these cosmetics are right for you!