Japan is known for its simple yet sophisticated art works. We've introduced to you various forms of paper art here at J-Subculture, such as origami and Paper Nano. Right now, we've got a very limited stock on these Hacomo Boxes, so you've got to get them while they last! What are Hacomo Boxes? Hacomo Boxes are produced by the Japanese arts and crafts company, Hacomo. "Hacomo" stands for "happy communication." Their goal is to create amusing, interesting products you can make with other people, building beautiful works through the art of communication. Each Hacomo Box contains 2D cardboard pieces that you combine together to make 3D cardboard art!: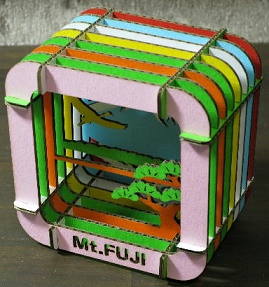 It's entertaining to make alone, or with friends. You can make them for someone special, since they make perfect gifts. They might look complicated to put together at first, but in fact, they're fairly easy. Take a look at their parts:
They don't require scissors or glue at all, so you can create works of art without the mess! They're great projects for children as well. The individual parts come in different colors, so when completed, you've got yourself a colorful frame. It's quite the wonder from any direction. Here at J-Subculture, we have three of these awesome Hacomo Boxes: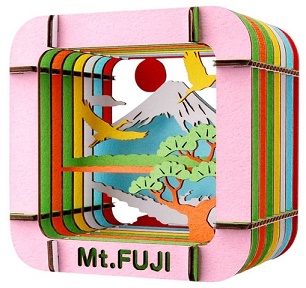 This is a Hacomo Box of Mt. Fuji, the highest mountain in Japan. It features a beautiful, trademark blue and white Mt. Fuji, with the rising red sun of the Japanese flag. It is also decorated with gold cranes and a pretty bonsai tree.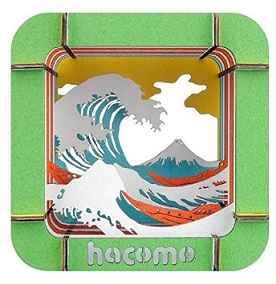 This is a Hacomo Box of Fugaku, which is another name for Mt. Fuji. Artistic waves appear as though they're crasing over a prominent Mt. Fuji in the background.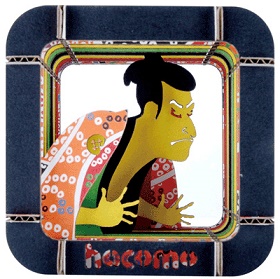 And this is a Hacomo Box of Ukiyo-e. This is a famous Ukiyo-e created by Sharaku. Ukiyo-e are considered "pictures of the floating world" and originate from the 17th century to the 19th century of Japanese art.
Over 90% of Hacomo crafts are recycled, which make them environment-friendly. You can learn about ecology through these soft, colorful pieces of cardboard. They're communication tools that connect people's hearts together through the enjoyment of art! If you're interested, the Mt. Fuji model, Fugaku model, and Ukiyo-e model are in stock, but they won't be there for long, so don't hesitate to try them out now at J-Subculture!