We'll get straight to the point--there are super adorable plush commuter card cases in Japan and you've got to check them out. パスケース (pass case) is what they're called in "Japlish." They're commuter card cases you can use to conveniently hold your cards in style. There are various designs but the ones that truly stand out are the ones that look exactly like stuffed animals and plushies. Commuter card cases are very helpful to have, because you can safely hold your bus or train pass and use them quickly for when you're on the go. You can attach them onto your bag and they look like charms. Words don't do me justice in describing what a help these commuter card cases are. I wouldn't travel without one--I've even used one on my way to work today by train!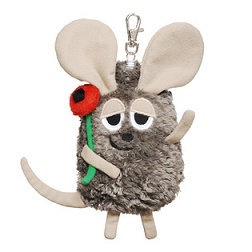 Here's an example of a plush commuter card case! Isn't it adorable? It's a plush case of the mouse character "Frederick" by Leo Lionni.
How do these commuter card cases work? All you have to do is attach it to your bag. You can attach it to a zipper on your bag or a hook, like this:
It adds a charming look to your bag, doesn't it? It's cute and functional!
You don't have to fret over constantly removing and attaching the case from your bag, because these commuter card cases are able to stretch, thanks to the string within them. Just tug and pull on your plushie, and you're able to use the card you've put inside!
See? They're able to stretch for quite a length, so you never have to worry about taking it on and off your bag.
On the back side of the commuter card case, there's a slot to keep your card in. These aren't limited to commuter cards. You can also put credit cards, ID cards, library cards, and any other card you use on a frequent basis. Most plush commuter card cases have an inner compartment you can put things like money and keys into. Isn't that neat? They're multi-purpose!
Plush commuter card cases are the perfect fashion accessory. They're great for people of any age. They can brighten up a dull bag with their cute appearance and bright colors.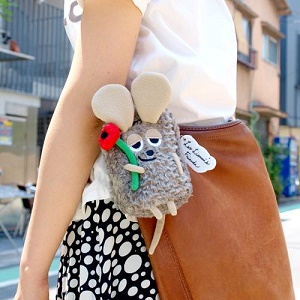 There's an expansive variety of these character plush cases. Scroll through the products listed below and don't hesitate to pick one you like! At J-Subculture, we provide countless plush cases of many popular characters, such as Pokemon, Moomin, Monchhichi, Line, and more!