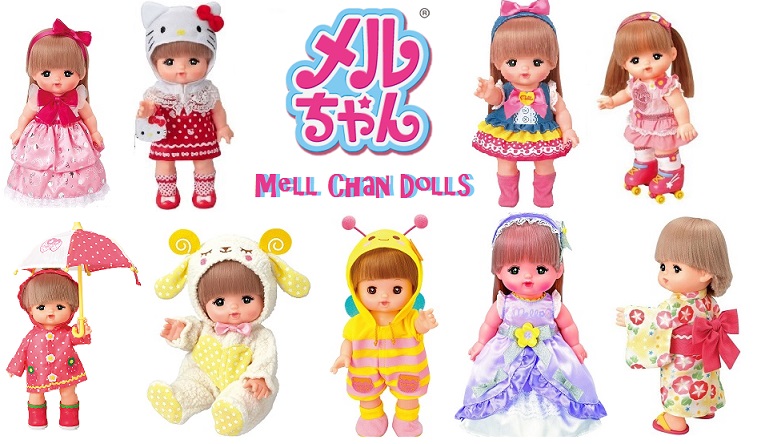 Introducing the adorable girl doll, Mell Chan! She's 26 centimeters tall and weighs only 235 grams. She's an energetic, sweet girl who loves dressing up. Her favorite toy is a stuffed bear, and her companion is her pet dog. She has a secret--when she takes a bath, her hair turns pink! She can even alternate from short to long hairstyles! Mell Chan has an expansive wardrobe, from pretty dresses to animal costumes, and even Japanese yukatas!
Isn't she just the cutest? Caring for Mell Chan teaches children the importance of caring for others. With Mell Chan's charming looks and kind personality, fans of Mell Chan have grown in numbers across the world. Mell Chan is small enough to hold and carry. She has many sets that provide the ultimate play time, like her bath time set, hair set, bed time set, and more!
Mell Chan has been loved by people of all ages since 1992. She even has her own fan club! With all the fancy outfits, play sets, and accessories she has, you'll always have a good time with Mell Chan.
Mell Chan is a favorite among many. With her dolly eyes and warm smile, you'll want to play with Mell Chan all day long. You can take a bath with her since she's waterproof, change her outfits however you please, and take her wherever you go. Have you fallen in love yet?