Many parents all over the world will surely love this splendid and practical product: the delicious and super healthy Wakodo snacks specifically designed for children -and specially babies-! And why do we say they are healthy? Because these wonderful and yummy biscuits, crackers and cookies are made of vegetables and fruits.
Imagine you are going for a walk with your children and they are suddenly hungry, but you don´t want them to eat unhealthy or pernicious candy or sweeties. Be sure they will love to taste this awesome, original and fantastic goodies made with sweet potato, banana, pumpkin, etc.
And they will also like this singular snacks because of their shapes! They are all small and funny chickens, lions, squirrels, etc. Be sure your kids they are going to enjoy all of the Wakodo snacks! All these snacks are packaged into a colorful and super cute design and in a easy pocket-sized boxes with their own cookie bags, so you can keep them into your handbag or backpack.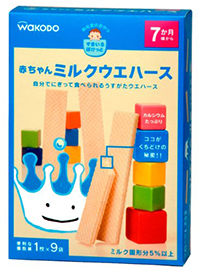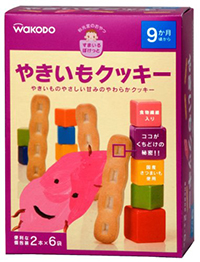 All the concerned moms and dads will be truly pleased with the fantastic Wakodo snacks: they will delight your children with their tasty flavor meanwhile you feed them in the most beneficial way -with the help of iron and calcium- and you will be able to keep them amused as well!