You won't believe the number of Pokemon plush dolls out there...you definitely can't count them by your fingers. Do you have a favorite out of them all? Today at J-Subculture, we'd like to introduce some unique Pokemon plush dolls that are pretty rare on the Poke-market: Pokemon Ditto Plush Dolls! First of all, let's cover what a Ditto is. Ditto, or メタモン (metamon) in Japanese, is a Normal-type Pokemon that goes by #132 in the Kanto Pokedex. It normally appears as a light-purplish blob, though its shiny form comes in light blue.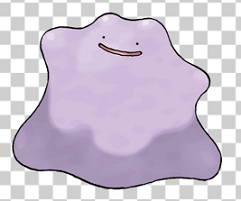 Although it can't evolve, this out-of-the-ordinary Pokemon possesses the spectacular ability to transform into any Pokemon it sees! (The only other Pokemon known to possess such an ability is the legendary Mew. Could they be related?) Ditto is also able to breed with other Pokemon, including those that are genderless. For anyone who has ever played Pokemon before, you've probably had the experience of leaving a Pokemon with Ditto at the daycare center, right?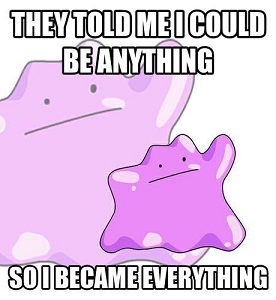 The downside (or charming side) to Ditto is, while it can transform into a replica of the Pokemon or object in front of it, it remains itself. In other words, the original strength it has doesn't change, and neither does its facial features. However, in recent anime, Ditto is successful enough to transform in great detail of the Pokemon before it, such as into Piplup and Pikachu in the gif below:
Although this might be a strong move in battle, originally Ditto kept its adorable face while transforming, and this facial expression has made a comeback in modern times! More and more fans of Ditto are increasing after Pokemon Centers in Japan have promoted Ditto and began to sell Ditto goods.
(On the left, a Ditto that unsuccessfully transformed into a Pikachu. On the right, a mascot of the same Ditto walking around a Pokemon Center)
Doesn't the simple expression of Ditto warm your heart? You've got to admit that's pretty adorable. Ditto might be pretty cute on its own, but when it tries to imitate other Pokemon...now that's cute! Out on the Poke-market, we've got Ditto plush dolls of Pikachu, Clefairy, Bulbasaur, Charmander, and Squirtle!
If you're a true Pokemon fan, then you've gotta catch 'em all! Order your own unique Ditto plush doll here at J-Subculture today! (And scroll down for Ditto-related goods up for auction!)