Creative and cute, or just plain creepy? Introducing Disney Cubic Mouth! Cubic Mouth describes the characters pictured above. Each Disney character comes in a fresh new look, with round eyes and "cubic mouths," making them look pretty distorted to their original counterparts. If you're a fan of the Japanese animated comedy, "The World of Golden Eggs," the design of these characters might seem familiar to you. Studio Crocodile's very own director of "Golden Eggs," Satoshi Fumihara, designed these freaky-funky characters. And don't you worry, these characters are actually approved and licensed by Disney. So, how would you compare Cubic Mouth's Mickey to Disney's mousy star?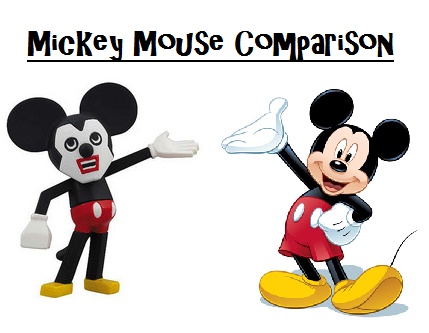 The likeliness is uncanny, right? All jokes aside, you can totally tell how Cubic Mouth's Mickey follows the character guidelines of the original Mickey, but breaks the frame and details into square pieces. It's pretty twisted; I mean, Cubic Mickey looks drunk to be honest with you. But both mice characters appear happy, don't they? Cubic Mouth characters are gaining popularity at a fast rate, especially among adults. You've got to admit that they're slowing growing on you, aren't they? As mentioned before, the Cubic Mouth series isn't limited to the main Mickey Mouse Clubhouse characters. There are also adaptations of other Disney characters, such as Winnie the Pooh and the Seven Dwarfs!
Since Cubic Mouth characters have grown so popular, many goods have been produced to keep up with their rising rates in popularity. Collaborations with other companies have produced many kinds of Cubic Mouth Goods, such as toy cars and key chains.
Here's a collaboration with Tomy: limited edition cars that come with their Cubic Mouth characters!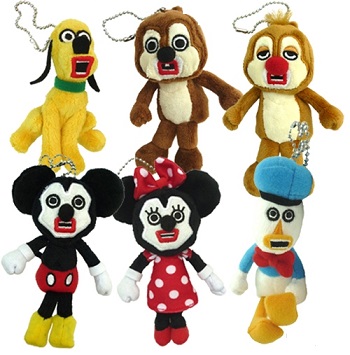 Imagine having a Cubic Mouth plush doll key chain on your bag...you'll certainly stand out in the crowd!
Whether you're eager to start up a new collection, or looking for something crazy to surprise your friends, Cubic Mouth Disney characters are just right for you! They also make great conversation starters. We have a large variety of Cubic Mouth goods for sale and up on auction here at J-Subculture. Just browse through our products below and enter a new world!