There are many brands of plastic figures in the world, but they have nothing to do with the super cool japanese plastic figures creator Good Smile. This company was created in 2006. They typically design characters from manga, video games, anime and are created with a large head and a smaller body, which gives them a lovely, extremely adorable and cute appearance. Their faces and other body parts are exchangeable, giving them a range of different expressions and poses. This super accurate figures are created by Nendoroid and it has plush toys and play sets. Several video games have also been released based on Nendoroid designs.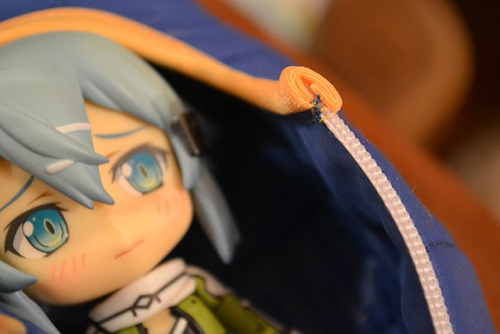 Nendoroids are figures about half the size of regular sized figures. They are about 14cm in height and the face can also be replaced with other faces as well as replaceable arms and legs. They are made with a super high quality and phenomenal paint work. Nendoroid Petit are smaller versions of the regular ones, about they have exactly the same fantastic quality.
And here we have a lovely item specifically created by the new university graduates that joined Good Smile Company in 2012. The idea behind the series was to create an easier and more enjoyable way to display Nendoroid figures. The series includes clips and suction cup stands that can each hold a single Nendoroid figure, as well as decorative parts that can be attached to figures and stands.
And what we are offering is the cutest idea: The Nendoroid Pouch: a sleeping bag with a special design based on Mikazuki Munechika! The measures approximately 4" by 6". The pouch can fit any Nendoroid inside and keep it warm and safe! Take your Nendoroid with you wherever you go! As you can see it also comes with a little keychain, allowing you to carry your favorite Nendoroid around with you while giving them the perfect place to protect their sleeptime! Amazing!