Usually, an o-shibori is a moistened heated wet towel offered to customers in restaurant and bars in China and Japan, and also in Chinese and Japanese restaurants all over the world. The most common use of the o-shibori is to clean your hands before eating or drinking. It could be a normal towel or be made of some kind of paper (cellulose). It can be moistened with hot water or placed damp into a refrigerator; it usually depends on the season of the year.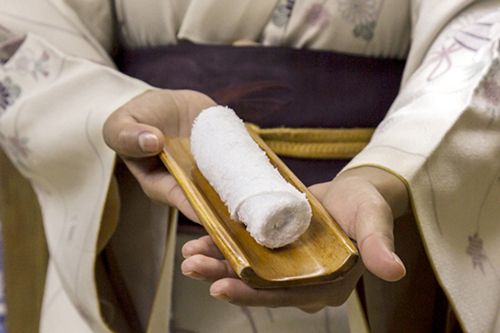 The quality of the o-shibori towel depends as well on the quality of the establishment, restaurant or bar. Cheap places will offer a simple resfreshing paper towel. But if you go to a special and pricey place probably the waiter will offer you an individual wooden tray with a fabric o-shibori so the customers can wipe their hands before or during the meal.
Sometimes restaurants employ a rental service which launders them and rolls them into the typical cylindrical shape. Some times, they wrap each o-shibori individually in a clear, lightweight plastic seal made of polyethylene film which can be easily broken and removed by the customer before using. The heated towel or o-shibori reminds to the barber's shops, where to moisturize skin and beard and make it easier to shave, they use a type of o-shibori.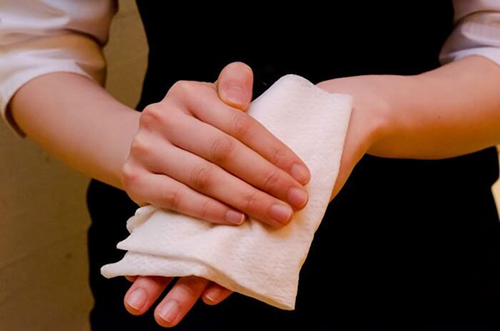 But if you love to use these delicious towels, you can have your own o-shibori set now! Made with funny and cute designs, you will be able to moisturize and clean your hands every time you need with your own and beautiful and washable towel, with its own plastic box, perfect to carry with yourself. Also you can give to your children a lovely Hello Kitty and Rillakkuma o-shibori cases!