Everytime it comes the moment of lunch when you are at work you feel like a loner… with only a sad sandwich to eat. But… why don´t you change that routine? Why don´t you cook for yourself? We have here the perfect combination for your own cooked meal. A truly beautiful, ornate fabric laminating series of lunch boxes for any kind of food -but specially developed for bento-.
Hakoya has created super fashionable and cute collection. The elegant design seem as a small piece of real kimono fabric which is plasticized with a resin component making this container so special. And in contrast to the lid, the body color is a modern, minimalist black, which highlights the colors and contrast perfectly. Remember that no two patterns on the lid are the same. That makes your bento box singularly unique!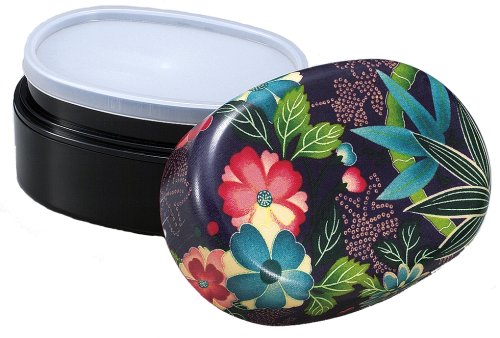 Enjoy your meal time eating delicious dishes perfectly protected into these wonderful boxes! These two-tiered bento box consist of two compartments. The upper tier has a soft lid. Each compartment can hold approximately 500ml or two cups of food each for a total of 4 cups of food! The box also comes with a bright red elastic band to keep everything securely in place.
Don´t forgot to use precautions, because these boxes cannot use in lid, microwave and dishwasher, leaking juice by a waving or next to it. There is a strong shock and damage. And do not also use the device in an open fire, oven, etc. Don´t feel alone while eating anymore! Take care of yourself and do it in the most fashionable and practical way!