Well, this is awesome. Any car and mechanics lover will immediately want to own these incredibly realistic car puzzles, because... they are 3D puzzles! And that means that even though they are small replicas, their volume and huge details will blow your head! Amazing running jigsaw puzzles!
Complete the elaborate 1/32 scale cars assembling 3D three-dimensional piece, the three-dimensional jigsaw puzzle! We have 4 model cars accurately reproduced the new 3D puzzles. All you have to do is to assembly precisely the three-dimensional pieces and rotate the tires, which they can actually spin! Assemble 64 parts and make your own dreamcar! Remember to assemble all plastic parts in a specific order!
When you finish the 3D puzzle, a 1/32 scaled famous car will appear! Realistically designed 3D puzzle with 4 famous cars which has never been seen before. Made with a fantastic and strong design, and powerful and elegant presence, you can choose between Hummer H2, Lacey, classic stylish but yet cute body of a Mini Cooper, the sportiness of the BMW Z4 and the fascinating Lamborghini Murcielago.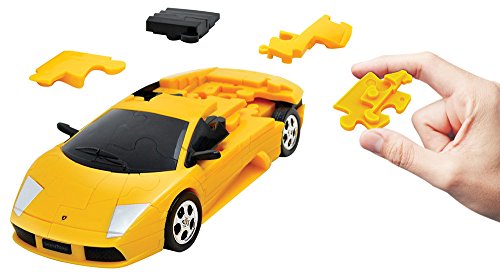 The assemblage is also very easy, because every layer has a special piece with a raised section letting you know when it's time to move on to the next layer up. All cars have an official license from the makers and all the collectors will be amazed with these puzzles! Feel the electrifying satisfaction of placing the final piece and be delighted with these super detailed model car in the end!