Let´s face it: we all need (and like) money, because sadly we can´t live and progress in this world without it. But… what if we use money as a joke? This curious and super funny, entertaining and also useful! Is specially recommended for those who love to make good jokes and want to lessen the important of money…
These are the amazing notepads of 1 million yen bill! Their touch and look is incredibly realistic! They look as real as the true money looks like! Wouldn´t you like to feel and taste the sensation of being a billionaire? All your friends will be surprised! Suddenly, you will be the owner of millions of Yen's with this awesome note book!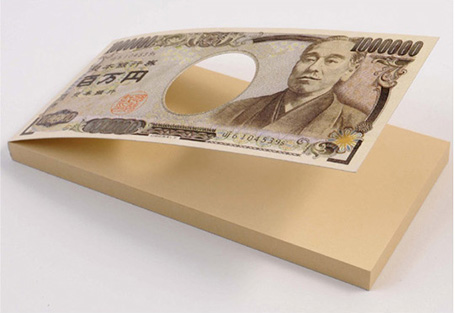 You will hardly resist start laughing when your friends realize that this money is fake! Why not use it as a little surprise gift? It has a super realistic picture of 1 million yen! Put it into your wallet and get the luxurious feel of being a billionaire! Enjoy! Compare to the real money, in case you doubt if it´s fake or not…
This funny item is not only interesting, it´s excellently useful. It has a large rectangular size and a great number of pages. You can write a lot! Amusement and utility in one place. Surprise your friends in parties; is a very popular gift! The tint of the paper quality and printing are very similar to the real one… just give it to your friends and acquaintances and prepare for unstoppable laughters!