Pokémon is a super famous anime series. Millions of kids all over the world love these characters! And now we introduce to you Pokémon Nanoblocks, which are a set of micro-sized building block models produced by Kawada. The first models were released in Japan in 2013, and in the United States, Pokémon Nanoblocks were first released on October 1, 2015. They are recommended for ages 12 and up.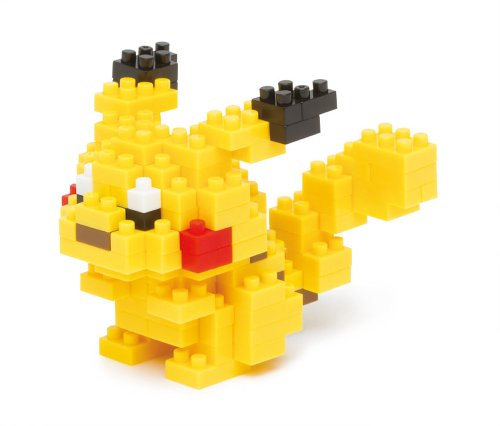 The first four models were released in Japan on October 25, 2013. In the United States, the first series were first released on October 1, 2015. This special series has reached 20 years! To commemorate the 20 years of Pokémon, a special gray monochrome edition of the very first series of Nanoblocks were released on March 4, 2016. The gray color is reminiscent of the original games, and the models come in a box with the original game art box art at the front.
Nanoblocks are a construction product which allows the most intricate of model making with unique tiny-sized blocks. Highly collectable, these miniature building block sets appeal to a wide range of tastes and ages. At just 1/8th the size of standard building bricks the detail of projects has to be seen to be believed. Your kids or even you, will highly enjoy building the adorable figures of Pikachu, Charmander, Bulbasaur, etc. in a vividly coloured soy ink, manufactured from high quality ABS plastic… your only limit will be your imagination!
Easy to put together and extremely adorable! Perfect for people who like Legos; playing with Nanoblocks will be a funny trip! Really fun to build, they all come with extra pieces. Spread your love for the original Pokémon characters! Every character is a cool little project that looks amazingly great!