Tired of having all your mug cups disorganized and all over the place? Want to drink out of something light and of your favorite design? Introducing character stacking cups! Stacking cups in Japan are super popular because of how light and useful they are. They'll never take up space in your kitchen because you can stack them up on each other, limiting the space you use. The cups with character designs are especially popular. We'll introduce to you some designs:
These are Miffy stacking cups that come in a pitcher set! Isn't that helpful? You can enjoy different designed cups while using a pitcher to pour your drink into them.
These kinds of sets, such as the Moomin-themed set above, is perfect for taking on the go. You can use these stacking cups on a sunny day for a picnic!
Look at these sweet designs of Kirby stacking cups. The pastel look of these cups make it especially popular. These are lightly lamenated, featuring Kirby in the front, and his name written on the back.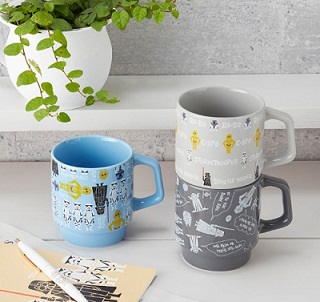 It's nice to have these kinds of cups, like the Star Wars ones pictured above, for just relaxing and enjoying a drink at home. You can drink both cold and hot drinks through them. If you have your own set, you can even use them for parties!
If you're interested in having your own character stacking cups, just scroll down! There are also non-character, simple designed stacking cups up for auction.