Who are the girls that manifest the cutest factors of our favorite Disney characters? They're Dollcena! Each Dollcena doll is a girl who is a huge fan of Disney.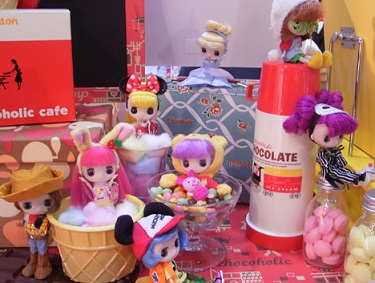 Dollcena dolls are dolls that were created and produced in 2005 by the Japanese toy company Takara Tomy, in collaboration with Disney. Dollcena dolls are mini dolls that are said to be the size of parfaits, with colorful costumes they wear to match their favorite Disney characters. With so many unbearably adorable features, these dolls are certainly hard to resist. They have cute names and come with a sleep-eye feature, which enables them to get their beauty sleep as they lie down to rest.
Don't they look so cute? Their long eyelashes increase their cuteness. Dollcena dolls allow you to enjoy the fun side of the doll world. You can play with them, dress them up, use them in photography, collect them...the possibilities are endless! Each Dollcena dolls comes with their own stand and little accessories. We'll show you some dolls from the Dollcena collection:
Introducing Milky Girl! She's a girl who is a fan of Disney's Alice in Wonderland! Her dolly eyes are sky blue, and her soft, curled hair is blonde. She comes with a White Rabbit bag and lovely blue dress!
This is Miu Miu Ribbon! She's a girl who is a fan of Marie from Disney's The Aristocats! She comes in a fluffy white cat outfit and Marie-styled bag. She has light pink hair in a bob and pink eyes!
Can you tell who these two are a fan of? They are fans of Winnie the Pooh and Piglet! The girl on the left is called Happy Hunny Party, while the girl to her right is called Violet Ambassador! They wear princess dresses in the color of their favorite characters, as well as hairbands that have ears on them!
These two are Nuts Mania D and Nuts Mania C! The "D" stands for "Dale" and the "C" stands for Chip! With emerald green dolly eyes and hats to match the cuteness of Chip and Dale, they're the perfect combo of friends!
There are a total of 27 Dollcena girls you can be friends with. Want to add a jewel of a doll to your collection? Are you a fan of Disney like these girls? We have many Dollcena dolls for sale and up on auction, so feel free to scroll below for the new edition to your collection!