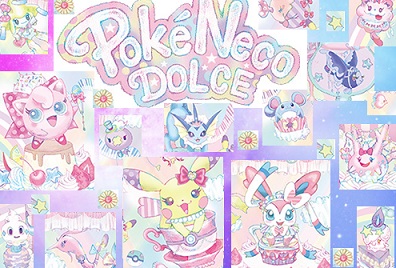 How can you make Pokemon even cuter? Dress them up in pastels and ribbons! PokéNeco DOLCE is a series of Poke goods produced with the collaboration of the Japanese illustrator 絵子猫 Econeco and the Pokemon Center! PokéNeco DOLCE features adorable Pokemon dressed in ribbons, hats, stars and crowns. Some sit on top of sweets while others are in teacups! The word "dolce" means "sweet" in Italian. Can you resist the sweetness of this Pokemon-themed tea party?
Our hosts for the tea party are Pikachu, Jigglypuff, and Sylveon. If you look closely to the Pikachu pair, you can see that their ears and tails have dots and stripes! The two sit in Pokeball-designed tea cups. Our favorite singer Jigglypuff has her own pretty mic and ruby pink shoes, with a large ribbon on her head to complete her idol look. Lovely Sylveon is dressed up in frills, sitting on top of a cupcake. Besides our cute hosts for the tea party, our Pokemon guests shine through their own dolly attire. You can enjoy kawaii designs of your favorite Pokemon, such as Drifloon, Vanillite, Jirachi, and more!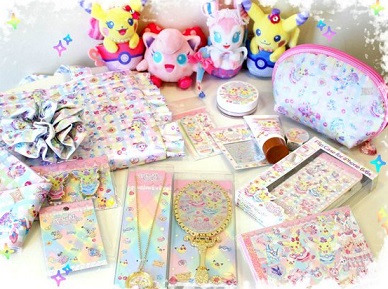 Besides PokéNeco DOLCE stuffed dolls, there are accessories like earrings and brooches, everyday items like mirrors and pouches, towels and so much more! If you're into the cute, pastel world of PokéNeco DOLCE, then get these items fast! Add a little more sweetness in your life through PokéNeco DOLCE goods sold here, at J-Subculture!