You go to your favorite Japanese restaurant and order a plate of various Japanese cuisine. The waiter brings your delicious meal to your table, and just before you dig in, you notice something funny. There are plugs sticking out of the food on your plate! That's when you realize you've been fooled again by the artistry of Japanese food replicas...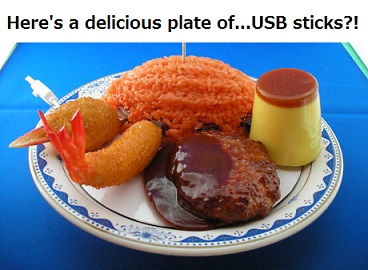 Today at J-Subculture, we've got an awesome item all foodies love. Introducing food shaped USB sticks! Combining functionable USBs and the masterpieces Japanese food replica artists have to offer brings forth perfection. These funny, creative items will become a hot topic when you show them off to your friends. Just stick the USB stick into your computer and you're ready to go! USB sticks are faster, more compact, and far more durable than your average storage device. Sticking a food shaped USB stick into your computer will compliment your dull computer well and amaze the people around you with such realistic detail and form. We'll introduce you to some Japanese cuisine USB sticks to remind you of your favorite Japanese food:
Here we have the very famous Osaka prefecture cuisine, takoyaki! Takoyaki is a popular snack food in Japan. It's ball-shaped, has bits of octopus inside, and tastes great!
Here's one of the well known cuisines of Aichi prefecture, fried shrimps! Since Japan is surrounded by the ocean, most of Japanese cuisine is comprised of delicious seafood. Fried foods are especially popular, like the realistic fried shrimp USB sticks above, and the next USB stick we'll show you below!
These two USB sticks were made to replicate Hokkaido prefecture's cuisine, fried crab claws! Hokkaido, the prefecture located at the top of Japan, is famous for its delicious crab and other seafood.
Here we have Fukuoka prefecture's cuisine, mentaiko! Mentaiko is seasoned cod roe. We at J-Subculture are proud of this cuisine in particular since we're in the heart of Fukuoka, Hakata! It's our soul food.
We have these awesome USB sticks in stock, as well as other food shaped USB sticks up for auction, so why not check them out? Just scroll down below for products! If you call yourself a foodie, you've got to have these USB sticks. Order yours today!