Eye masks are essential when it comes to deep sleep. Since wearing eye masks block out all light from touching our eyes, our bodies produce more melatonin to improve our sleep cycle. But why settle for a plain eye mask when you can go for something more creative? You'll be laughing in your sleep when you see all the eye masks we have to offer at J-Subculture. They're perfect for sleep overs, make great gifts, and bring more joy to your sleep time. Check out some of the products we have!:
Match with friends and share the laughter with these eye masks! Featuring googly eyes and bushy brows, you and your friends won't stop laughing. These eye masks offer great protection against light, so after the party, you can sleep well.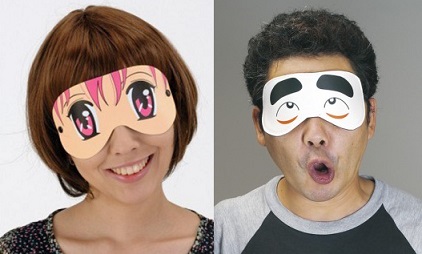 Wanna go for something more Japanese-style? Check out the Japanese eye masks we have at J-Subculture! Eyes truly are expressive. Wear these eye masks to take you to a wacky world of anime-like expressions! Speaking of anime, we also have anime character masks you can wear!
Ditch the idea that eye masks are boring, because you can always have a fun time with these funny eye masks. They double as costumes too, so you won't have to worry about what you'll be for Halloween these year. From anime eyes to looks of horror, you're certain to find the eye mask that stirs fun within you. Sweet dreams!