Conel Creative Clay Kits offer high quality clay that anyone can use to make amazing clay figures! "Conel" comes from the Japanese word こねる which means "to knead." There are many clay kits avaliable to help you create adorable animal figures, such as the ones featured below:
There's a brown dog with lovely pink ribbons, a happy cat having a cat nap, a strong-looking bull dog, a hungry panda, a silly penguin, and even a playful pink dolphin!
The clay used for each figure is easy to knead, so you can fully enjoy the experience of playing with clay. For anyone trying to find a new, artsy hobby, why not start with clay? With clay, you can create things the way you exactly imagine them to be. Also, while using clay, you can feel yourself relax with each knead. Expand your imagination through the power of clay! Once you'll played enough with clay, you'll have many figures you can use as decorations or give them away as presents!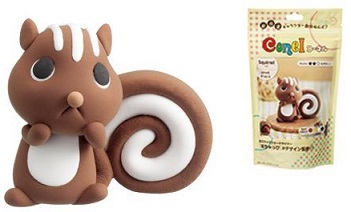 What's so great about this specific kind of clay? There are six points! 1. It doesn't stick to your hands as much as other kinds of clay do. 2. They come in bright, pretty colors. 3. They harden naturally overtime, without having to bake them. 4. It's easy for each part of clay to stick together, so there isn't a need for using glue. 5. You can mix the colors together to create your original color, or a marble design. and 6. It's difficult for cracks to develop on your figures, so you needn't worry about your finished masterpiece becoming ruined. With so many strong points to these clay kits, who wouldn't want to try them out? We have Conel Creative Clay Kits at J-Subculture, so enter the world of clay today!