Doraemon, the star manga and anime series has its own mugs that will definitely make you want to collect them all! These mugs feature the face of your beloved characters in clarity, through clean-cut colors and brilliant outlining. If you're interested in character-themed mugs, then you must check out this particular series!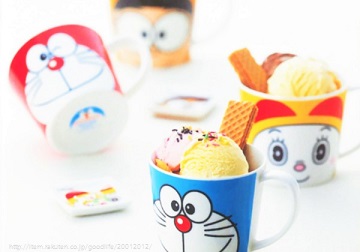 While each white mug has the face of your favorite characters, there is a description of each character on the other side of the mug, depending on the design of mug you've gotten. For example, if it's Doraemon, it says, "a cat-like robot from the 22nd century of the future" on the back. There is also a fun surprise on the bottom of each mug, with the character's face and name. Isn't that a nice accent?
Some of the designs for the mugs include the ones pictured below: Doraemon, Dorami, Noby Nobi, Big G, Little G, Sue Morris, and Brian Beacock! They all come in the main color of the clothes each character wears and a short description on the other side. These mugs are microwave and dishwasher safe. They're made in Japan and are very popular among people of all ages. They make great gifts for any Doraemon fan out there!
Feel free to check out the selection of mugs we have avaliable at J-Subculture by scrolling down, and if you're interested in other Doraemon goods, click this link for an article on Doraemon made previously in February: www.j-subculture.com/guides/sub/276
Imagine waking up to a nice cup of coffee accompanied by Doraemon's happy face...what a pleasant morning!