Hokka, the old fashioned Japanese treats company vows to deliver smiles and great tasting treats to the world! Hokka (北陸製菓 hokurikuseika) was first founded in 1918 as "Japan Arare Ltd." Ever since its establishment, the recipes and manufacturing methods they've used in the past haven't changed even once in order to retain its original, old fashioned quality. The taste of each baked treat will take you back home. They create satisfying treats that everyone from children to older people can enjoy. Let's see some of the goodies they have for you: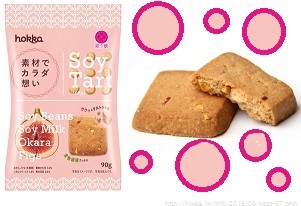 These are Hokka's "Soy Tarts." They may look like your ordinary biscuit, but they are actually quite special. By using soy beans, soy milk, okara (tofu refuse) and figs, they have created tart-like biscuits that is both delicious and good for you! With each bite you take, the airy sweetness of the biscuits will fill your mouth. It's a guilt-free treat you can have time after time!
This is Hokka's most famous and popular series of biscuits: Moomin Biscuits! These biscuits are light, crispy, and taste as great as they smell. The biscuits are shaped like your beloved Moomin characters, so you can feel as if you're in the woods of Finland. With flavors like cocoa, milk, and raspberry, you are certain to find a flavor you'll deem your favorite. There are even biscuits baked like puffy cinnamon breads, perfect for this autumn!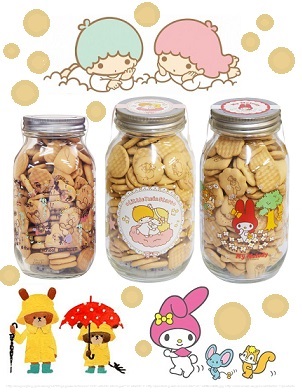 Here we have the other character series of glass jar biscuits! These sweet biscuits are kept in glass jars that you can reuse to keep small items as a decoration in your home (or to add more biscuits!). Each glass jar features a lovely design of the theme character of the biscuits within. The flavors for each type of biscuit depends on the image of each character, like honey lemon for Kiki and Lala.
We have all these treats and more here at J-Subculture, so if you're in the mood for some light, tasty treats, just scroll down below and feel your mouth water! Pleasing to the eye and yummy to the mouth, Hokka treats will never let you down!