Tired of plain tissue boxes? We have the solution: kawaii tissue box covers! Tissue box covers add personality to boring tissue boxes. We often mistake tissue boxes as items you don't want to leave around when people are over because they're so plain. However, you can jazz up such simple items and make them into decorations that complete any room! While you can opt for regular covers, we thought we'd like to show you some unique items that shout out to the kawaii community. Here are some adorable tissue box covers!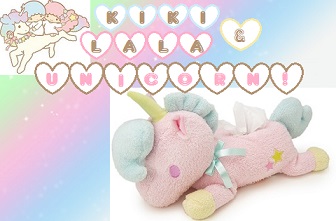 Kiki & Lala's pink unicorn is super cute, surrounded in a magical aura. Its girly, pastel colors will add charm to any room. It doubles as a stuffed animal too, so no one can tell that it's actually a tissue box cover! Care for some fantasy?
Korilakkuma's Pink Rabbit costume cover is simply adorable. It's soft and fluffy like cotton candy. Just having this plush figure is sure to bring a smile to your face. Like the unicorn above, it resembles a plush, so you can immediately add it to your lovely collection of korilakkuma. A bear dressed up as a rabbit, how cute is that?
Here is everyone's favorite Pokemon, Pikachu! With its bright, yellow color, it'll add pop and energy to any dull atmosphere. If you want an item that spells out that you're a Poke-fan, this is the perfect item. Subtle, yet loud, the perkiness of this cover with become your staple item when you've caught a cold. Look at Pikachu's face and you'll be better in no time!
To avid gamers of Dragon Quest, we'll got a slime tissue box cover as well! Rectagular tissue boxes slip easily into the cover of the slime, and you can retract tissues from behind. It doesn't resemble a tissue box cover at all, so you can totally have it as some awesome decor. Blue, cheerful, and as plush as a stuffed animal, you'll never want to leave its side.
We have these kawaii tissue box covers and more in stock and up for auction at J-Subculture. If you love these characters, and other characters such as Chopper and Hello Kitty, just scroll down! You can never go wrong with kawaii items.