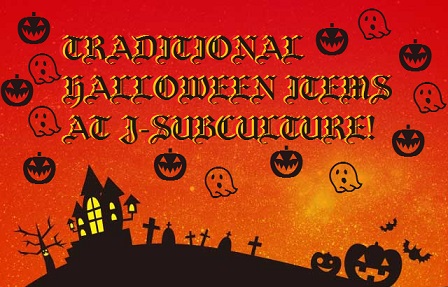 While Halloween is celebrated through many people wearing costumes and going to parties, marching in parades, going trick or treating, or even just taking selfies, we mustn't forget the good old traditions of Halloween. Besides dressing up in costumes, what else can we do on Halloween? How about decorating your home into a haunted house? Why not host a Halloween party of your own and serve the tastiest of Halloween goodies? There are so many other ways you can have fun on Halloween. Halloween isn't just for the young. Join in on the Halloween fun and stir up your own magic! Since Halloween has made a huge hit here in Japan, the number of Halloween products have increased drastically. Besides high quality costumes, we have many decorations and other Halloween items to ensure you a great time! But how can you purchase such Japan-limited items? You can purchase them through our proxy shopping service here at J-Subculture! (if you're unfamiliar with our service, please click this link for details: www.j-subculture.com/guides/sub/534).
We're having our October 2016 Point Campaign currently, so use this chance to reap up on points through our proxy shopping service! Are you ready to check out some wicked sites for Halloween goods?
Amazon Japan For Halloween Goods:
www.amazon.co.jp/%E3%83%8F%E3%83%AD%E3%82%A6%E3%82%A3%E3%83%BC%E3%83%B3-%E3%83%8F%E3%83%AD%E3%82%A6%E3%82%A3%E3%83%B3-%E3%82%B3%E3%82%B9%E3%83%81%E3%83%A5%E3%83%BC%E3%83%A0-%E3%83%91%E3%83%B3%E3%83%97%E3%82%AD%E3%83%B3-%E9%80%9A%E8%B2%A9/b
Besides amazing costumes, there are a variety of spooky decorations you can hang in your house to transform it into a spectacular sight in a night! These decorations aren't limited to the inside of your home however. You can also have these decorations out on your porch and lawn! Besides decorations, there are many Halloween sweets as well, along with kits you can use to make goodies with your friends and children!
Amazon Japan Halloween Party Goods: www.amazon.co.jp/b/ref=s9_acss_bw_cg_PantryBo_1b1
(please note that we cannot send liquids such as wines and sodas.)
Amazon Japan Halloween Decorations: www.amazon.co.jp/b/ref=s9_acss_bw_cg_PantryBo_2a1

Rakuten Japan For Halloween Goods: event.rakuten.co.jp/halloween/
At Rakuten Japan, there are so many high quality Halloween items that can help make your Halloween night the best event of the whole year! From light up pumpkins to visual arrangements and fancy Halloween finger foods, you'll never be disappointed from the variety of Halloween items!
If you've found the Halloween item you've been looking for, just copy and paste its link here to purchase it through our proxy shopping service with ease: www.j-subculture.com/pages/easy_order
If you have any questions about our service, please don't hesitate to contact us through here: www.j-subculture.com/pages/easy_order
We are always delighted to help you! And of course, as you can see below, we also have many Halloween items here for purchase at J-Subculture! There are baking goods to make your desserts shaped like pumpkins, ghoulish wall stickers, and more! Get ready for Halloween 2016, because time flies when you're having fun! If you're going to celebrate, then you've got to go all out. Just scroll down for more Halloween products. And most of all, have fun!